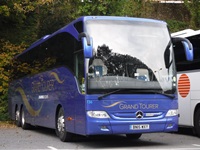 American property giant Lone Star Funds acquires remaining shareholding in  Shearings for an undisclosed sum
Lone Star Funds, a minority investment partner in Wigan-based Shearings Leisure Group, has acquired the remaining shareholding previously held by management, after the company was subject to a management buyout deal in 2014.
The transaction will bring the property and operating companies together under common ownership and management control.
The change to the ownership structure sees former Travelodge CEO and Chairman Grant Hearn, already a Non-Executive Director on the Shearings board, take over as Chairman. Grant brings a wealth of experience to the business and has Non-Executive Director roles already at retailer Poundland and Scandic Hotels, as well as being Chairman of another Lone Star owned business, Amaris Hospitality.
As part of its long-term growth strategy, Shearings has also completed the acquisition of specialist holiday operator Equalmatch, which operates the Travelstyle and UK Breakaways brands. Shearings said the acquisition would complement its fast-growing National Holidays business by expanding its regional presence in the UK.
Denis Wormwell, Chief Executive of Shearings Leisure Group, said: "This was another landmark year for the Group, with a fourth successive year of improved financial results, continued investment in the business, new ownership and our first business acquisition since 2005.
"With the backing of a long-term investment partner, our best ever line up of holidays and hotels, a well-invested estate and fleet and the loyalty of our fast-expanding over-50s audience, we're in the ideal position to continue growing our presence and position as the leading escorted tours operator."
Shearings also released its latest financial results, with EBITDA increasing by 30% on the previous year to £9.1m (2014: £7.0m) alongside growth in revenues and passenger numbers.
In the 12 months to December 2015, the Group carried 1.1m passengers, up 2% on the previous year, and increased revenues slightly to £201m (2014: £200m) – a record in the Group's 100-year history. The prior year's sales and passenger volumes had been adjusted following the disposal of two leased hotels in 2015.
The Group made a pre-tax profit of £5.0m, compared to a loss of £0.9m in 2014, and had positive cash of £1.4m at the end of 2015 compared to net indebtedness of £4.5m at the end of 2014.
The group has also continued to invest in its infrastructure, with increased spend on hotel refurbishments of £4.6m (2014: £3.6m) and the largest ever UK order of Mercedes-Benz Euro 6 coaches with 46 (2014: 38) new vehicles set to join the 240-strong fleet this month.