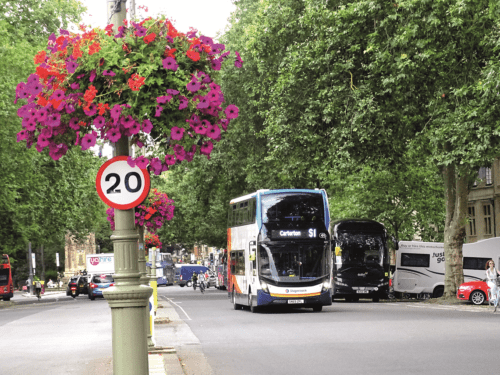 On top of Euro VI, PSVAR, staff shortages and long waits for new vehicles, there is another issue that is starting to become more and more apparent to both coach and bus service drivers, and the management of any operator that is involved in express or bus service work, and that is the 20mph speed limit that is currently springing up all over the UK.

A long-standing limit

Country to common misconceptions, the implementation of the 20mph speed limit is by no means new, having first been considered by the Department for Transport in 1990, based on experience of the cut speed limit internationally. In December of that year, the Department of Transport (DfT) issued circular Roads 4/90 which set out guidelines for the introduction of 20mph speed limits, with local authorities having to apply for consent from the Secretary of State to introduce a 20mph zone.

There is a difference between a 20mph limit and a 20mph zone, with a 20mph limit being shown by road signs, whilst a '20mph zone' is designed to be 'self-policing with traffic calming measures in addition to signage.

Tinsley in Sheffield was the first location in the UK to gain a 20mph speed limit, at the junction between Raby Street and Sheffield Road, whilst the first 20mph zones were in Kingston-upon-Thames and Norwich. A further 450 20mph speed limits were introduced between its inception in 1991 and 1999.

London

In September 2019, Transport for London (TfL) announced that proposals to lower speed limits on TfL roads across central London would go ahead, following a positive response to its public consultation earlier in that year. TfL went on to introduce 20mph speed limits on all its roads in the capital's Congestion Charge Zone by early 2020 – mirroring the lower speed limits already in place on the majority of borough roads in the central London area.

[…]

By subscribing you will benefit from:
Operator & Supplier Profiles
Face-to-Face Interviews
Lastest News
Test Drives and Reviews
Legal Updates
Route Focus
Industry Insider Opinions
Passenger Perspective
Vehicle Launches
and much more!