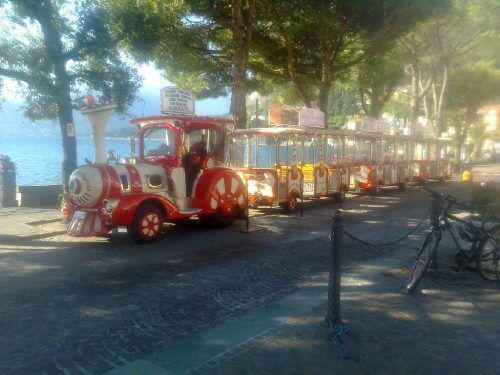 Our coaching insider was intrigued by the operation of a land train encountered in Italy, especially as its use seemed to be no different to that of a mainstream bus or coach
Land trains can provide transport solutions at large venues, theme parks, holiday camps or, in the case of the accompanying picture, between villages on the banks of an Italian lake.
Most are Dotto Trains and as the company's website proudly relates: "In 1962, Ivo Dotto invented his 'Road Trains' to allow people to enjoy old towns and parks in complete freedom. The family have been manufacturing Dotto Trains ever since and with their self steering carriages have become the Rolls Royce of their kind.
"With high technology and innovation mixed with the ability to personalise and theme both trains and carriages, Dotto Road Trains provide unique passenger travel that delights both the customer and the operator. Smooth efficient operation is ensured beyond the sale with our ability to supply spares, accessories, all the way through to service contracts and repair."
These vehicles can be fine revenue earners at the height of the season and the latest ones are also fully Euro 6 compliant. However, the operation of this particular one in Italy does raise some issues […]
What you get with a subscription
Operator & Supplier Profiles
Face-to-Face Interviews
Lastest News
Test Drives and Reviews
Legal Updates
Route Focus
Industry Insider Opinions
Passenger Perspective
Vehicle Launches
and much more!