Brighton & Hove and Metrobus are backing the DfT's campaign, 'it's everyone's journey', which aims to improve disabled people's experience of using public transport. Transport Accessibility Minister Nusrat Ghani visited Brighton & Hove recently and experienced first-hand the accessibility features on the company's buses, including the audio-visual information for passengers.
The Minister boarded one of Brighton & Hove's 30 new extended-range electric buses, which travel in zero-emissions mode through the city centre on route 5. Brighton & Hove and Metrobus' Managing Director Martin Harris said: "Our entire fleet (440 buses) is made up of 'talking buses', where passengers can see and hear next stop and other announcements, such as diversions. We introduced them in 2016 after one of our visually impaired passengers told us she had alighted at the wrong stop several times and it was making her anxious. We're right behind the DfT's campaign and we welcome it wholeheartedly. Everybody deserves to feel relaxed and confident while they travel and the best way to make buses more accessible is to keep listening to the experts: our passengers and our communities."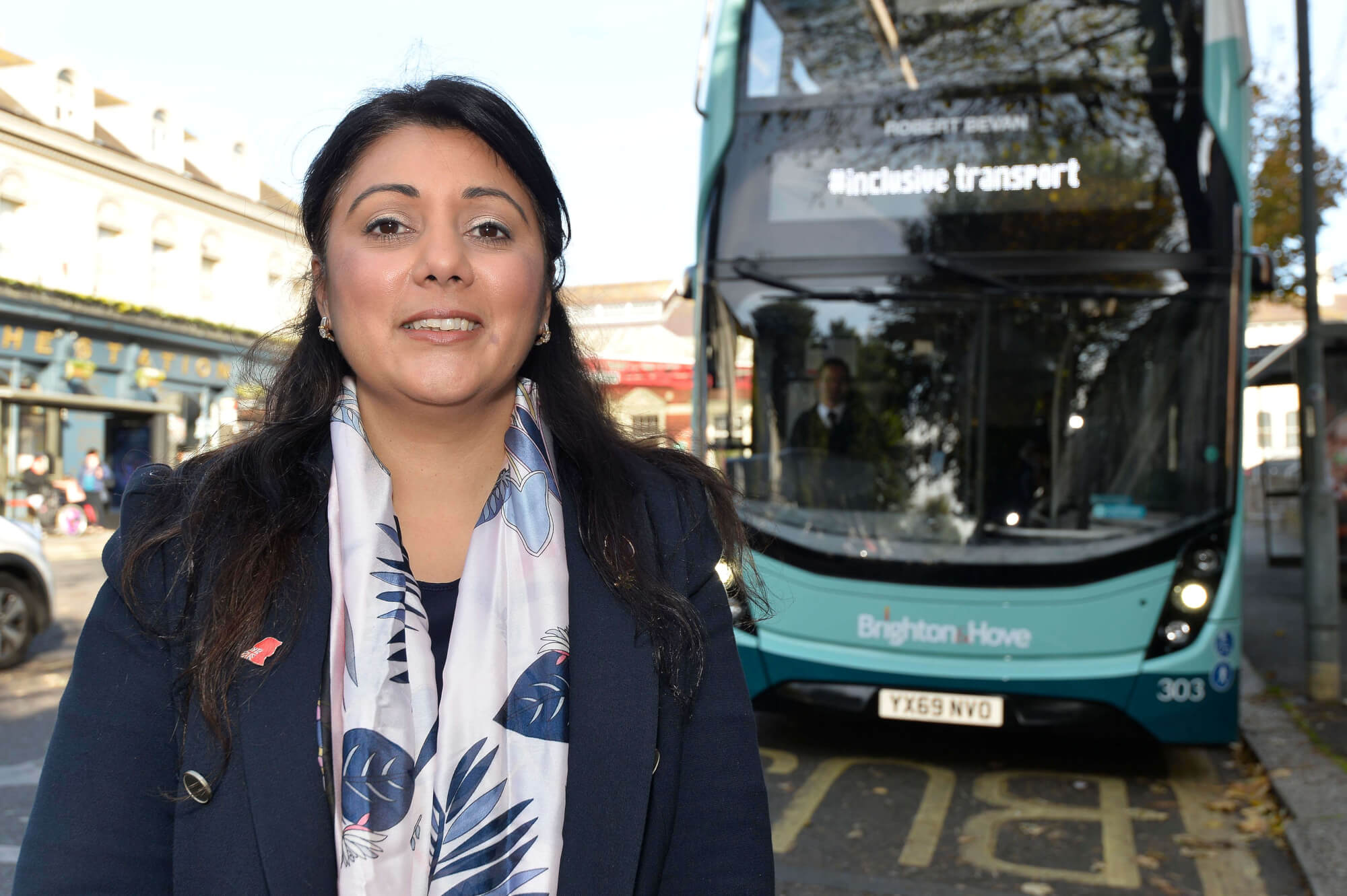 Martin said the company worked with disabled passengers and community groups on bus design, ticketing and driver training. It also ran a travel buddy scheme with Brighton & Hove's Grace Eyre Foundation, building up the confidence of people with learning disabilities on public transport.
Hangleton resident Graham Oulton is registered blind and used to worry about catching the bus by himself in Brighton. Graham has volunteered with Guide Dogs UK since 2014 and helped Brighton & Hove Buses fulfil its promise of making 100% of its fleet becoming talking buses. Graham said: "It's tremendous getting on board a bus and hearing your stops. It's amazing for me because it's freedom. I can go anywhere."
He also said the company's Helping Hand card, which tells a driver when a passenger may need extra help without them having to say anything, had also made him more relaxed and confident about catching the bus, assisted by his guide dog.