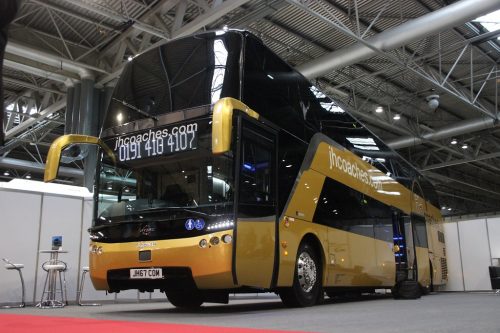 Gateshead-based JH Coaches has become the first UK operator to take delivery of a striking new Ayats Eclipse-bodied Scania double-decker. The 89-seater took pride of place on the stand of Ayats UK at last week's Coach & Bus UK show.
Asked by CBW what attracted the operator to the new combination, Ian Shipley, Operations Director at JH Coaches replied: "We first considered Ayats last year after Dave Nixon at Ayats UK said he wanted to build on a Scania chassis. Dave got confirmation a Scania chassis would be available in January. By May, the steelwork on this coach was complete.
"Another huge plus for us is that the coach is constructed of stainless steel and the panels below the windows are fibreglass – salt on the UK roads is a big problem. I'm aware of how robust Ayats coaches are. I go on holiday a lot to Majorca. They have coaches operating flat out – including Ayats vehicles which are up to 25 years old.
"We are delighted with this new coach – the maiden voyage was from Barcelona to our depot in Birtley on the Friday before the show (September 29).
"The structure of Ayats' Bravo/ Eclipse double-decker has not changed in more than 20 years. For me, that means there is a peace of mind as it's an established design. I like the interior – including the lights, seats, decency screen and USB ports. In fact, members of the Ayats team were highly accommodating of our requirements."
Ian said a four-year Scania chassis warranty had been negotiated at a "reasonable price," and that Ayats' standard 12-month body warranty had been boosted by purchasing an additional four-year warranty from Ayats UK.
As for the attraction of the Scania running gear, Ian said: "After my son John, who is now MD, and I started buying the business back, in 2014 we leased two coaches from Scania to reacquaint myself with a manufacturer I'd previously enjoyed excellent experience with. We were so happy with their performance that this year we acquired a 63-seater tri-axle Interlink and three Tourings. Running a Scania-based fleet makes life easier all-round.
"This coach has a 450BHP engine, coupled to a 12-speed Opticruise transmission. It also has an overdrive top gear. I'm optimistic we'll be able to achieve 10 miles per gallon on the long runs.
"Ayats has a world partnership with Scania – they build Scania-based coach across the world."
Turning to the future, Ian enthused: "We've ordered another for March, albeit to non-DDA specification and we're going to modify the servery as we've noticed it's vulnerable to spillage. Otherwise, we love it. Build quality is up there.
"While this coach benefits from plugs at the rear, I don't believe we'll need to run it with a ski box. We've acquired both coaches straight – we've not offered a part-exchange, hence we've bought them for a attractive price."