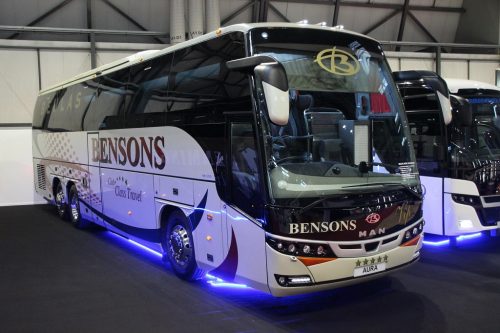 North Shropshire owner operator explains why he chose some elements of the specification
North Shropshire owner operator Clive Benson, who runs Whitchurch-based Bensons Travel Ltd, has told CBW he is looking forward to taking delivery of his new Beulas coach which was displayed on the Moseley stand at last week's Coach & Bus UK show at the NEC (see p28).
It will be the first new coach for Clive, who founded his business in 2013.
"For us a new coach needs 1,200 tour passengers per annum – I've bitten the bullet," he told CBW. "We carried nearly 1,200 passengers this year. We've gone from 18 tours in 2013 to a programme of 49 next year."
Clive has traded in his 2006 Irizar PB Scania to Moseley. Asked why he chose the Beulas Aura-bodied MAN combination, Clive replied: "I needed a distinctive vehicle – nobody else runs Beulas coaches in my area. I also listened to my good friend David Blake from Blakes Coaches. My experience of Beulas has echoed David's – he doesn't like to accept it, but 50% of the decision to buy Beulas can be attributed to him.
"I enjoyed dealing with the Beulas team – they're a small company, who very much did almost what I wanted. Specifying the requirements for a new coach was alien to me. I was made most welcome. Despite being an owner-driver, I was treated like I was a multiple buyer. The build quality is excellent – including the attention to detail. I was happy to choose the painted signwriting rather than vinyls as I drive my coach for 90% of the time.
"Thanks to the five-year warranty plan agreed through Moseley, I believe I have peace of mind. MAN technicians are virtually on my doorstep at Aquila Trucks in Whitchurch. I can drop it off and walk home if required.
"Minimising downtime in running back and forth to a dealer is vital when you're an owner operator. I enjoyed the service and support I received from my local Scania dealership with my previous coach but it was at Ellesmere Port – and that cost time and time is money."
As for the selection of a tri-axle, Clive said: "Because of our rural location, I didn't want to go longer than 13m. Also, once you've had a rear-steering axle, there's no going back, as it were. It's an essential aid for me, especially in traditional seaside resorts, where hotels were rarely built with parking for 13m coaches in mind.
"At present, I'm not planning to do more than four or five continental tours per annum, so the prohibitive toll charges normally associated with a tri-axle across the Channel are not a problem."
While it was displayed at the show as a 51-seater, the coach is to be downseated to 42 by AD Coach Systems after being fitted with a rear kitchen. As Clive explained: "I never set out to have a coach with a kitchen but the ex Ashtons PB was available at the time. However, I must say it's helped to create our business for us – hence having a kitchen fitted on the Beulas.
"I've already told my passengers about the new coach. One immediately expressed concern as to whether he would still be able to enjoy his meat and potato pie. Offering that level of personal customer service is essential. The kitchen and hostess service is a massive USP for us.
"Our loadings currently average 28 across the board. In addition to our current facilities, customers will now enjoy USB ports at every seat and free WiFi."
Clive concluded: "We're due to take delivery of the coach in the first week of November in time for our festive tours.
"The plan is for the new coach to debut on the Llandudno Turkey & Tinsel tour the following week."