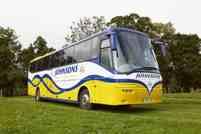 Johnsons orders two new Bovas for 2012 UK Coach Award-winning operator Johnsons Coach & Bus Travel has confirmed an order for over half a million pounds worth of brand new Bova Futura coaches for 2012.
The two new coaches, set to arrive in early April, will be the most advanced coaches ever ordered by the company and join the 42-strong fleet operating out of Johnsons' Henley-in-Arden base.
Johnsons' commercial director, John Johnson, said: "Being able to order these fantastic vehicles in this economic climate is an excellent endorsement for our business and shows our ongoing commitment to providing the best quality vehicles for our customers.
"Their arrival will take us to 15 brand new coaches purchased over the past four years and we intend to continue our investment in quality vehicles for our passengers in the future."
He added: "With such a major 'once in a lifetime' sporting event being held in the UK next year, these vehicles will be busy ensuring that athletes, technical officials and the media are all transported to their destinations in comfort and style."
Ben Werth of Pontefract-based dealer Moseley PCV, told CBW: "We are proud to supply Johnsons Coach Travel with two more VDL Futura FHD 127.365PRs to add to their ever expanding fleet. Their continued loyalty to the VDL product is testament to the strong reliability and fuel efficiency of a proven market leader."
Johnsons of Henley-in- Arden won the Coach Operator of the Year (Large Fleets) category at the UK Coach Awards in 2011. Visit www.ukcoachawards.co.uk