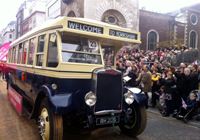 Restored 1929 vintage bus impresses and inspires second project from Bluebird Vehicles
Bluebird Vehicles displayed its restored 1929 Leyland Tiger bus, "Yorkshire Tiger", in the Lord Mayor's Parade on Saturday November 12 in London.
Newly appointed Lord Mayor of London, David Wootton, a Bradford born Yorkshire man, looked particularly impressed with the craftsmanship and smiled, tipped his hat and said "well done" as the Tiger passed him.
Bluebird Vehicles bought the Tiger in 2009 and began the ambitious project to restore its former glory, including original EYMS livery, after two other restoration projects had been abandoned. Bluebird's project, led by design and development manager John Randerson and coachbuilder Bernard Moment provided an opportunity for the team of Bluebird apprentices to learn traditional wooden framed coach building skills alongside the modern skills required as part of a thorough manufacturing apprenticeship. Compared to Bluebird's latest bus, the new Orion Plus which achieves 22mpg, the Yorkshire Tiger has an average fuel consumption of 6mpg.
John Randerson commented on the importance of the project: "The Tiger has given our apprentices the opportunity to learn and pass on traditional skills, which otherwise would be lost. They have to think through problems and find solutions without the luxury of modern technology to help them. There is a real commitment to the project and a wonderful sense of achievement and pride in their work".
Rob Miller, managing director, said: "Our team at Scarborough have shown they can not only design and manufacture first class buses using the latest technology, but also learn and apply traditional skills to bring a piece of history back to life. The team have already embarked on their second restoration project, a Bedford OB coach with a Burlingham body.
"If you want to see the Bedford being restored, we have a series of discovery days in the New Year at the Scarborough factory where we will be showcasing our oldest alongside our newest vehicle the Orion Plus."
The Tiger was built by Ransomes of Ipswich and bought new by East Yorkshire Motor Services (EYMS). Following the Second World War it was sold on and then later adapted and used as a dwelling. In an advanced state of decay it was taken on by Hull Technical College who also planned to use it for apprentice training, but the project was abandoned and sold on to an enthusiast, who did not progress it further.
For details of the discovery days: Bluebird Vehicles on 01723 860800 or email on [email protected]