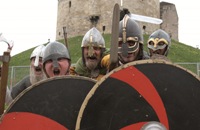 The 27th annual Jorvik Viking Festival inYorktakes place from February 11-18, 2012.
The opening weekend will have a performance of "The Vikings' Song – A Quest for Freedom", adapted from children's author Peter Ward's Viking Trilogy, at 1900hrs daily. It will be performed with authentic reproductions of Viking instruments.
A recreation of a Viking wedding will be displayed on Wednesday 15, while a new Black Tie Viking Banquet will be held on the Friday, with visitors welcomed by a torchlit Viking war band before enjoying an evening of revelry, an authentic Viking feast, music and song, with a special guest speaker at the end.
The event will end with a Festival of Fire finale on February 18, where doors open at 1700hrs. A magnificent torchlit procession is followed by a longship burning once it receives the body of a fallen warrior. There will also be fire juggling and a firework display.
Jorvik Viking Centre is built on the site of 1,000 year old remains of Viking houses, discovered in a five year dig between 1976 and 1981.
As a special incentive for groups Jorvik offers a guaranteed entry time with pre-booking, as well as free familiarisation visits for group organisers, free admission for group leaders and coach drivers and group discounts for groups of 15 or more.
For more information about groups packages please call 01904 615505.