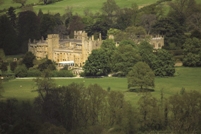 Sudeley Castle in Winchcombe will offer its visitors one of the most significant monarchy tourism events of the Diamond Jubilee year in 2012. The year-long celebrations at the castle to mark the 500th anniversary of Katherine Parr will also add to The Cotswolds' other two big tourism draws next year: the second biennial Broadway Arts Festival (with a close connection to the sinking of the Titanic in its 100th anniversary year); and the 400th anniversary of the Cotswolds Olimpicks.
The Broadway Arts Festival in The Cotswolds was inaugurated in 2010 as a celebration of the village's artistic heritage and its enduring relationship with a world-famous colony of American artists and writers who visited and worked there in the 19th century.
Regarded by some as the origin of the modern Olympic games, meanwhile, Robert Dover's inaugural Olimpicks were first staged on a Cotswold hillside in 1612 – "By Royal Approval" of King James I. Despite a long and chequered history stretching over nearly four centuries, they have survived to this day – providing a remarkable link between the Olympics of ancient Greece and the Olympic Games of today.
SudeleyCastlecompletes the trio of top events for 2012 in a region which promotes itself as 'Britain's Rural Capital of Culture'.
Sudeley Castle and neighbouring village Winchcombe are planning to welcome the world to a very special Tudor-themed Katherine Parr Festival, which coincides with the current Queen's Diamond Jubilee celebrations in 2012.
Visit www.broadwayartsfestival.com , www.olimpickgames.co.uk  and www.sudeleycastle.co.uk  for additional information. For information including accommodation in The Cotswolds, visit www.cotswolds.com