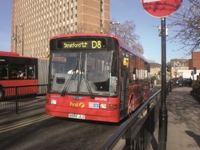 Unite has written to all London bus operators calling for genuine negotiations for an Olympic Games pay award for 28,000 workers.
The award would be in line with what other London transport workers will reportedly be getting for working during the Games.
Unite has argued that with an extra 800,000 passengers expected to travel on buses during the Olympics, significant extra revenue will be generated through fares for Transport for London (TfL), and staff will be working much harder, under more pressure.
Unite claims it has written to the London mayor's office on more than one occasion requesting a meeting but after waiting for three months for a response, Boris Johnson replied saying he and TfL could not get involved.
Unite's regional secretary for London, Peter Kavanagh said: "Bus workers will be making a significant contribution to getting visitors around London during the Olympic Games, they deserve recognition. An extra 800,000 customers means bigger profits, it's only right staff are rewarded for their extra contribution. The mayor's office has washed its hands of its responsibility – its disgraceful. If this situation continues we can't rule out industrial action."
Kavanagh added: "The union is asking for an extra £500 which has already been agreed for some rail staff. For too long TfL, the mayor and bus operators have treated staff as second class citizens, while saying they are the best in the world. Our members are saying enough is enough. If you say they're the best treat them like they are."