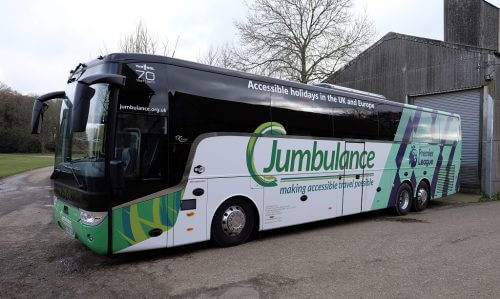 Jumbulance Trust gives its VIP passengers a precious gift they would otherwise be denied – freedom to travel
The Harpenden-based Jumbulance Trust has taken delivery of a new tri-axle Van Hool TX17 Acron, replacing a similar T917 Acron new in 2009 which has been sold to a Belgian dealer. It will operate alongside the trust's other jumbulance, a two-axle T915 Acron delivered in 2012.
As CBW outlined in the 2015 Christmas issue, the trust's vision is "a world where people with disabilities or who are severely ill or significantly dependent are able to maximise their quality of life through social and transport opportunities."
"The old T917 Acron had done sterling work for us, but we need to keep our fleet reliable, up-to-date and meeting the latest emission standards," explained trustee, Richard Field. "It's important to constantly update the specification and design.
"The vehicle ordered a year ago was supplied by Moseley (PCV) and we visited Van Hool twice during the build process to get the specification right, and then later to finalise some of the details and check on progress. Both companies have been excellent throughout and particular thanks go to Moseley (PCV)'s Robert White."
Richard explained that the latest addition, for which a five-year branded sponsorship agreement has been agreed with the Premier League, is powered by a DAF MX13 460hp engine driving through a ZF AS-Tronic automated gearbox. Like the 2012 T915 Acron, it's left-hand drive with a European nearside heavy duty lift. There's tracking for up to five stretchers, six wheelchairs or combinations of both, and 18 seats. On-board there are 240v inverters for mains power and a landline hook up is also available.
"We've moved the toilet to opposite the lift and it is rear facing, which is safer," said Richard. "It also results in more room in what is a larger kitchen that, as well as being equipped with hot and cold water, has a microwave, convection ovens and plenty of work space and storage.
"We added two extra five star sleeper seats making six in total. All seats are Van Hool Grand Luxe with wider spacing – 850mm or 950mm in the case of the sleeper seats. There are Icomera WiFi and USB charging points at each. Four extra removable seats have also been supplied and can be fitted in lieu of a bed or wheelchair if needed.
"The vehicle's first outing was taking a group of Manchester United disabled supporters to a match against Arsenal on December 2. We're anticipating many more match day trips throughout the year alongside our existing holidays and day trips."