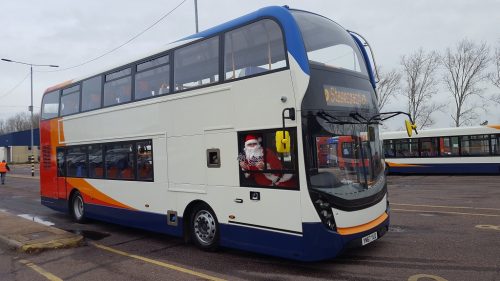 A charitable Eastbourne bus driver, Brian Newton, is once again swapping his Stagecoach uniform for a Santa costume to raise funds for a local charity – Children with Cancer Fund. The Stagecoach South East driver will be spreading Christmas cheer to passengers on bus routes 1/1A and the Loop each day across the town, from this week until Christmas Eve. The fundraising driver will be handing out sweets to youngsters and asking for donations to the cause as he takes passengers to their destinations.
For the last two years the charity initiative has gone down a storm with passengers who are thrilled to see Santa driving buses across the town. Brian has been with Eastbourne for four years and his efforts helped raise over £1,000 for the charity last Christmas.
He said: "Santa brings smiles to many faces in the Eastbourne area. In a sometimes gloomy world, I hope it brings people together and lifts the spirits of passengers and my colleague drivers at this very special time of the year."
Brian hopes that his passengers will give generously to the Children with Cancer Fund: "I wanted to help a local charity for children who have been diagnosed with cancer."
Krystian Kaczala, Operations Manager at Stagecoach's Eastbourne depot, said: "This has become a popular feature on our buses in recent years and the response from the public is really positive.
"Everyone loves Santa and I think it has become a part of the build up to Christmas in the community. I would like to say a big thank you to everyone who supports us."
Children with Cancer Fund is a Polegate-based charity made up of a small group of volunteers. Their aim is to grant wishes to children and their families, who have, or have had, cancer and who primarily live in East Sussex.
Covering projects that enable children, and families of children with cancer, to have the quality of life that we would hope to have ourselves. This may mean purchasing a piece of equipment, educational or medical, or a special toy.