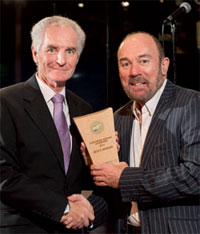 A Stagecoach North East bus driver has been presented with a top international award for customer service.
Ken Smith from the firm's Teesside depot was named the Gold winner of the Customer Service Champion accolade at the 2012 Stagecoach Champions awards in London recently. He was presented with a wooden plaque from Chief Executive Brian Souter.
He was nominated for the award after positive feedback from passengers who praised his attitude and commitment to making their journey as enjoyable as possible. The 65-year-old, who has been a driver with Stagecoach for 38 years, will also receive a Service to the Community award.
Ken, who lives in Middlesbrough and drives routes in Billingham, Stockton and Hartlepool, said: "Winning the award came as a complete surprise to me. I knew I was being presented with something but I didn't expect it to be the top customer service award. I was over the moon to be honoured in this way as I pride myself on being pleasant to my customers so it's lovely that they took the time to recognise me for it. I've been told I'm also going to receive the Service to the Community award, which is fantastic. I'm very proud."
The 2012 Stagecoach Champions awards are held every year to honour the outstanding achievements of staff internationally, while Stagecoach North East gives out Service to the Community awards throughout the year based on the feedback the management team gets from passengers and the public about the selfless actions of its employees.
Peter Knight, Assistant Operations Manager at Teesside depot, said: "I am so happy for Ken as he epitomises what all our drivers come to work for. The fact he has been recognised at group level is real testament to the dedication and love he has for his job, which is echoed by the lovely feedback we've had from our passengers. On behalf of the management team at Stagecoach North East I would like to congratulate Ken once again on his achievement."