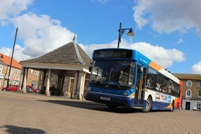 Stagecoach has launched the country's first long-term nationwide discounted bus travel scheme for jobseekers.
As of February 27, 2013 holders of a Jobcentreplus Travel Discount Card will qualify for half-price single and return tickets on Stagecoach services in the UK, with the aim of helping them to find employment. More than 800,000 people currently qualify for a Travel Discount Card. Those eligible include people claiming Jobseekers' Allowance, Incapacity Benefit, Employment and Support Allowance or Income Support and are actively engaged with a Jobcentre Plus adviser in returning to employment.
The scheme is being funded entirely by Stagecoach with no public sector support and will initially run for six months with a view to testing the potential for a permanent discount.
Charlie Mullen, Managing Director, Stagecoach East Scotland, said: "Youth unemployment is one of the biggest issues facing our country today and we know the bus is Britain's most important mode of public transport. Stagecoach already offers the lowest bus fares of any major operator in the country, making public transport affordable for those on low incomes. We hope this new initiative can help kick-start careers for those who are struggling to get that first job or training place."
Transport Minister Norman Baker said: "Following a month long commercial trial of BusforJobs which gave free travel to jobseekers in January, I warmly welcome the fact that Stagecoach has decided to continue with a 50% discount to jobseekers. I would encourage other operators who took part in the scheme to consider offering similar discounts to help those looking for work to find work."
Full details of the scheme can be found at www.stagecoachbus.com/backonboard