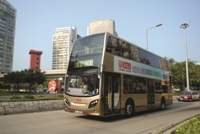 HONG KONG The Hong Kong Government has announced fares on KMB services will increase by an average of 4.9% with effect from March 17. The operator said the rate will not be sufficient to offset the operating costs generated by wage costs, fuel prices and tolls.
KMB said: "As a company running labour-intensive operations with a rigid cost structure, the majority of KMB's cost components surge as a result of fluctuations in the external economic environment. Sufficient resources are of prime importance if KMB is to maintain smooth operations on its 400 routes, which serve a total of 2.6m passenger journeys each day."
KMB's last fare rise application was made two and a half years ago. Fuel costs have since risen by more than 40% and labour costs by 9%.