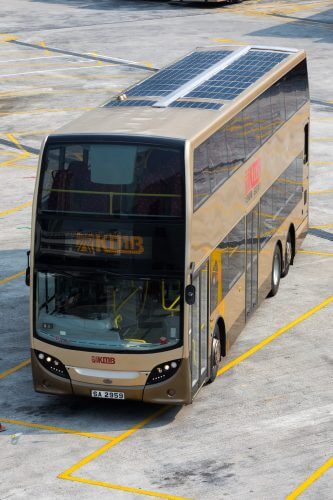 KMB introduces in-house developed double-decker with solar power system
HONG KONG The Kowloon Motor Bus Co. (1933) Ltd. (KMB) has introduced its first in-house developed double-deck bus equipped with a solar power system. The system serves as an auxiliary electric power supply and drives the air ventilation system inside an Alexander Dennis Enviro500, thereby reducing the 'Greenhouse Effect' inside the bus. During trials, the system reduced the saloon air temperature by around 5-10°C, enhancing bus services and contributing to environmental protection. This invention is patent pending.
The engineering team from KMB's Service Department took four months to develop the solar power system. With 20 solar panels (1M x 0.6M) installed on the roof, solar energy is absorbed and transformed into electricity to drive the air ventilation system and reduce the saloon temperature when the bus is parked at open area exposed to direct sunlight.
With this technology, the time needed for the air-conditioning system to reduce the saloon air temperature to the optimum temperature will be reduced, creating a more comfortable environment for bus drivers and passengers, while saving fuel and reducing energy waste.
The system also supports the USB chargers. During the hours of daylight, the solar power system directly supplies electricity to the USB chargers and the reserve battery. The battery in turn supports the USB chargers during the hours of darkness.
Lo Chun Yi, Engineer from KMB Service Department, said: "KMB is the first company in Hong Kong to incorporate solar technology on a double-decker. We hope this innovation will improve our service quality, represent an efficient use of recycled energy and demonstrate our care for the environment. We will strive to make further innovations in our provision of transport services for the public."