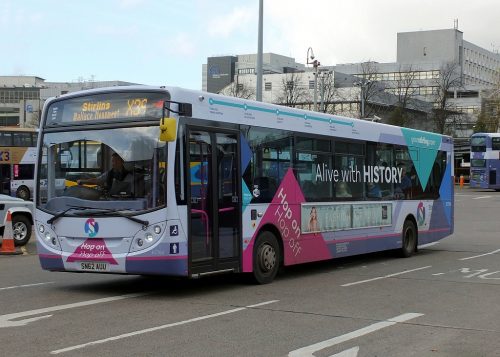 A campaign to promote the industry is launched after the CPT-commissioned document argues that 75% of decline in the Scottish bus industry is attributable to matters out of operators' control
Independent research by KPMG, commissioned by the Confederation of Passenger Transport (CPT), has examined Scottish patronage trends and concluded that, despite bus industry efforts to boost passenger numbers and develop services, operators are being hampered by a range of factors including rising car use, congestion, changing shopping habits and reduced public sector investment.
The study – Trends in Scottish Bus Patronage – found that 75% of the decline in bus passenger numbers could be attributed to factors outside of the operators' control.
The report argued that operators are working hard to improve services and attract more passengers and have delivered a range of recent initiatives, including contactless payments, multi-operator smart-ticketing and significant investment in new vehicles.
KPMG said the industry has also managed to keep price rises to a minimum, with fares rising at half the rate of operating costs. Bus fares in Scotland also remain the lowest in the UK.
The report has highlighted the need for practical, not structural change across Scotland's bus networks, to help the country take advantage of the environmental, economic and social benefits delivered by buses.
CPT Scotland said KPMG was given unprecedented access to information from Scotland's leading bus operators and was asked to act independently throughout the research.
The report claimed:
Every £1 invested in local bus services generates up to £8 in wider social, economic and environmental benefits;
 Car ownership and use continues to rise and has reduced bus journeys by almost 15 million in the past four years;
 An increase in online shopping means fewer people are travelling to high streets and shopping centres. This trend has cut bus journeys by seven million over the same period;
 Congestion has increased average bus journey times by 10% over the last decade, leading to higher fares and undermining the attractiveness of the bus;
There has been significantly higher investment in other transport modes which are used by less people. For example, Scottish Government support for rail per passenger trip is roughly 10 times that for each bus passenger; and
Stronger partnerships between operators and transport authorities and investment in bus priority measures will help bus operators deliver a convenient, dependable and affordable network of services.
To coincide with the publication of the KPMG report, Scottish bus operators launched their Get on Board with Bus campaign. The campaign will raise awareness of the issues facing the bus industry and its passengers, tackling perceptions about buses, highlighting the work and investment of operators and outlining ways in which passengers and politicians can 'get on board with bus'.
George Mair, Director, CPT Scotland said: "Buses are vital for Scotland. 76% of all public transport journeys in Scotland are made by bus. They are a modern, accessible, environmentally friendly means of connecting people and joining up communities.
"It's essential that the country's decision-makers act on the findings of this report to protect and deliver for Scotland's bus passengers. The value of a comprehensive bus network is clear, and the dangers of not taking the practical action needed are stark."
Colin Howden, Director, Transform Scotland, said: "It is imperative for Scotland to have strong bus services to provide a compelling alternative to private car use. In urban areas, we need to see action for the strict enforcement of existing bus lanes, improved traffic management, and the introduction of new bus priority measures. In rural areas, we need the protection of services that provide a lifeline for those in society who are genuinely dependent on public transport services.
"It continues to surprise us that successive governments have not made the bus more central to our national transport policy. The bus industry should be seen as a major Scottish success story, the country being home to internationally-renowned transport companies, award-winning bus operators, and a major bus manufacturing industry. All of this in a country with no car manufacturing industry for Government to placate."