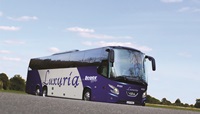 Escorted tour operator Leger Holidays has announced it will be launching a new design of coach next year, which it claims will be the first of its kind to be used by a holiday company in the UK. Called Luxuria, the coach will seat a maximum of 31 in rows of three, meaning significantly wider seats and extra leg room.
Leger confirmed there will be just the one VDL Futura 2 initially, although it said it "would rather not provide information on the operator side of things."
The armchair-style seats, some facing into tables, also feature retractable calf rests, personal touch screen TVs, and plug and USB points so passengers can keep gadgets fully charged.
According to the brochure seen by CBW, seating will be to 'two plus one' configuration, with single seats on the near-side. There will be two tables on the near-side, about half-way down. The screens on the face to face seats will be mounted on swing-out arms.
Ashley Dellow, Head of Retail Sales for Leger Holidays, said: "The coach is currently in production. We are the very first company in the UK to introduce this advanced style of coach for scheduled holidays and so this is being made especially for us.
"The coach will be ready for the New Year and we're already receiving a lot of enquiries, so we imagine places on Luxuria tours will go very quickly. It really will take coach travel to the next level of comfort."
Luxuria is set to operate on a range of continental tours – including the Rhine & Moselle Valleys and 'Fire & Ice – The Wonders of Sicily, Italy & Austria.' Holidays from Leger travelling by Luxuria can now be booked, and will be available on selected tours from March 2015.
For more information about Leger Holidays, visit www.leger.co.uk