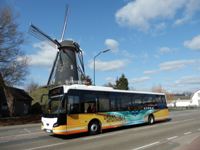 The 29 vehicles have been purchased by Finnish operator Pohjolan Liikenne
FINLAND A batch of 29 Citeas for delivery in December 2013 introduces the first VDL Citeas and the first Euro 6 buses for Finland. They have been acquired by Finnish operator Pohjolan Liikenne to operate services in Helsinki.
"We wanted to expand the number of preferred suppliers for our buses, so we compared several alternatives. Many positive aspects of the VDL Citeas really caught our eye, including a long service life and low fuel consumption. That made the choice very easy for us," said Heikki Alanko, MD of Pohjolan Liikenne.
The order consists of nine LLE-120s with a length of 12m, 15 12.9m SLE-129s and 5 XLE- 145s, the tree-axle version with a length of 14.5m. All the Citeas are equipped with a ZF Ecolife gearboxes and ESC. The XLE triaxle buses are equipped with an additional safety provision on the third axle to prevent the back end from swinging out over the kerb for example. The first Euro 6 Citeas for Finland are also the first Citeas with fully electric sliding plug doors.
"In 2012 we introduced a total of three Citea models to the Finnish market. The order from Pohjolan Liikenne consists of a mix of these three models. This shows our vehicles are well suited to the needs of the Finnish market. We are very proud to have received this order from Pohjolan Liikenne", said Remi Henkemans, MD VDL Bus & Coach bv.
The three Citea models purchased by Pohjolan Liikenne make optimal use of the modular system from which the Citea range is built. This high degree of modularity not only results in a tailored solution for each deployment area, it benefits the operator in connection with repairs, maintenance and stocked parts.
Pohjolan Liikenne is one of the largest Finnish bus companies, operating local, regional and long distance services with a fleet of 470 buses and coaches mostly in Southern Finland. The company's annual turnover is €77m and it has 950 employees. The buses and coaches run nearly 30m km yearly and serve about 30m passengers. Pohjolan Liikenne is a subsidiary of VR, the Finnish national railway company.