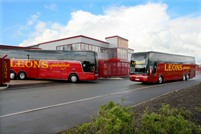 Leons' Coaches of Stafford opened its new £3m coaching centre on Thursday (April 12), and was joined by the Lord Lieutenant of Staffordshire Mr Ian Dudson CBE.
The newly built 4-acre site contains a new administration block, workshops and testing plant and is located at Paton Drive in the Beaconside area of Stafford.
Director Robert Douglas told CBW: "It was a very good day. We had about 70 people coming down and we took them on a tour of the premises.
"This is our first proper week here but we are really pleased with the new site. It's superb, absolutely lovely."
Leons' operates tours, day trips and contract services. It currently employs a staff of 40 workers, but the latest investment is expected to create around 10 new jobs at the site.
Visit the Leons Holidays website at www.leons.co.uk or call 01785 241319.