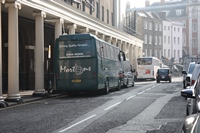 TfL continuing to monitor the bay's usage, with some problems caused by over-staying vehicles
Early results on the mixed-use parking bay trial in Central London have been released.
Since November 2015, Transport for London (TfL) has been trialling Mixed Use Bays in three locations across the Capital. This trial involves reclassifying selected loading bays so they retain their primary function, but are also available for coaches to pick up and set down passengers. The trial is an important step forward in implementing the actions prioritised within the Tourist Coach Action Plan (TCAP).
TCAP was launched in autumn 2013 and sets out 26 actions to be delivered over the next five years. The actions aim to ensure better access for tourist coaches, more intelligent use of stopping and parking spaces, an improved perception of coaches and a more robust approach to discussing the challenges and opportunities for tourist coaches in London.
Currently mixed-use bays are located in:
Park Lane (southbound at Marble Arch);
Vauxhall Bridge Road (south of Neathouse Place); and
Commercial Street (southbound carriageway south of Brushfield Street).
From summer 2016 a fourth location will be available at Whitechapel Art Gallery.
The initial results from the trial show that coaches are starting to use these mixed use bays. In total, 176 vehicles have used the Mixed Use Bays, 16 of which were coaches. Cumberland Gate and Vauxhall Bridge Road have been the most popular locations for coach drivers.
Current trends also suggest that in some locations vehicles are overstaying the time restrictions, with coaches making up half of all the vehicles overstaying in the three mixed use bays. While the trial is ongoing, TfL said it will continue to monitor usage of the bays, and urge drivers to take into account the restrictions for each of the locations.
Monitoring of the sites will continue over the next year, and the TCAP Programme Board will review the results. If the trial is a success, TfL will work with operators and London boroughs to identify and deliver mixed-use bays in other key locations.
Alongside this trial, TfL is looking to prioritise the delivery of some on-street facilities identified by the industry on the Red Route wish list. TfL, the Confederation of Passenger Transport (CPT), London boroughs and other partners, are delivering all TCAP actions jointly.
Ben Plowden, TfL's Director of Strategy for Surface Transport, said: "We want to make the best use of kerbside space, and these trials are a great way for us to provide additional flexible parking facilities for coach drivers in the Capital.
"The initial trial results are encouraging, and we want to see more people using these bays over the year."
Simon Posner, CPT's  Chief Executive, said: "CPT welcomes and supports this trial of mixed use bays which if successful I hope will be extended across London providing valuable additional coach parking facilities.
"CPT encourages coach drivers to use these bays responsibly by not exceeding the time limits or park leaving their engines idling."