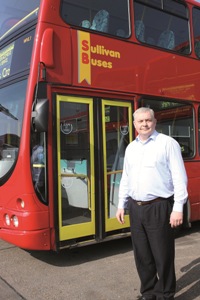 Hertfordshire independent Sullivan Buses has won a further 10 vehicles worth of work as Transport for London (TfL) releases its latest tender results. The operator has acquired the 628/688 and 653/683 services from Arriva London North.
The routes are for four school services linking Southgate, Edgware and Finchley with the Jewish Free School (JFS) in Kingsbury. Ten refurbished double deckers will be required to fulfil the contract.
Sullivan Buses MD Dean Sullivan, told CBW: "This is fantastic news, and evidence SMEs can compete in a highly competitive environment. The news of this five year contract comes at time of great uncertainty within the bus industry. The award also comes hot on the heels of our recent five-bus tender success for route 298."
Mr Sullivan explained he is "now commencing a search for a suitable batch of buses and a refurbishment facility which meets TfL standards."
He added: "We have been providing buses to JFS on behalf of Hertfordshire County Council (HCC) for pupils from outside of London since the school opened in Kingsbury in 2002. Over the last nine years we have enjoyed good working relationship with the school. While the HCC services carry far fewer numbers than the TfL services, we are now working with the school to provide the routes commercially."
Elsewhere Arriva London South has retained routes 197 and 289. The former will be run with 14 existing double deckers, and the latter 10 new singles. London Sovereign has won Metroline's route 605, which will be run using existing double deckers. Route 621, currently operated by London Central, has been won by Stagecoach Selkent which will use one existing double decker.
All contracts will be run by conventional diesel vehicles and will start in September 2012.