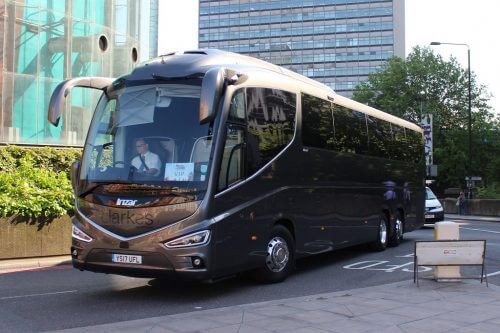 The Mayor of London's recent announcement that all coaches and buses passing through Greater London's Low Emission Zone (LEZ) will have to meet Euro VI requirements from October 26, 2020 has left the coach industry 'dismayed', according to the Confederation of Passenger Transport (CPT).
The organisation argues that the city's tourism economy could be hit by up to £186m, following a report commissioned by the CPT and produced by transport consultants Steer Davies Gleave.
Commenting on the announcement, Simon Posner, CPT Chief Executive, said: "CPT has been engaged with TfL and industry partners for many years on a number of air quality and congestion reducing initiatives for London.
"A delegation of industry representatives, led by CPT, recently expressed their concerns in a meeting with the Deputy Mayor for Transport, Val Shawcross, who clearly understood the industry's position and acknowledged that any expansion to the ULEZ would present many operators with an insurmountable problem.
"CPT remains convinced that the expansion of ULEZ, in addition to the early introduction of the scheme in the central area, will have a serious impact on day-to-day coach operations as well as a detrimental impact on London's tourism economy.
"With very little time for the production of new vehicles and with no officially accredited retro-fit solution currently available to operators, it is highly unlikely that the coach industry will be in a position within the next few years to meet the demands placed upon it.
"The only alternative will be for operators to pay the daily charge, which will undoubtedly lead to increased costs for passengers and with school trips and vulnerable groups – particularly those with limited mobility or who find public transport a difficult option – having to seriously consider whether London can continue to be a viable destination of choice.
"While we continue to support the Mayor's plans to improve London's air quality, penalising visiting coaches which are part of the solution and not the problem is not the way to go about it.
"Buses and coaches are key to reducing pollution, alleviating congestion and providing quicker journey times in the capital, and it is extremely disappointing that this announcement fails to recognise the important role that these modes have to play."
Meanwhile, Mayor of London Sadiq Khan has also announced that the capital's ULEZ will be extended to the North and South Circular boundary in 2021 – covering an area 18 times larger than the current Central London ULEZ.
It is estimated that 100,000 cars, 35,000 vans and 3,000 lorries might be affected by the expanded zone.
Sadiq Khan commented: "Tackling London's lethal air and safeguarding the health of Londoners requires bold action. Air pollution is a national health crisis and I refuse to stand back as thousands of Londoners breathe in air so filthy that it shortens our life expectancy, harms our lungs and worsens chronic illness."