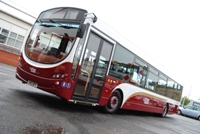 Lothian Buses has released its annual reports and accounts for 2012.
The operator's net profit stood at £8.2m, down from £8.9m the previous year. The firm's saw a 31% increase in profit from operations and a near 5% increase in total revenues year-on-year, to £122.6m. Interim dividend remained consistent at £3.3m.
The operator's key performance indicators remained mostly stable. Passenger journeys stayed at 111m. Service reliability improved, with lost mileage down to 0.11% from 0.12%. Staff turnover increased slightly to 2.3% from 2.0% while the vehicle fleet was reduced from 741 to 721. While the engineering MOT first time pass rate fell from 99.8%, it only fell by 0.2% to 99.6%, still an excellent level.
In his Chairman's statement, Chris Walton said: "We invested significantly in our own business to the tune of £5.5m, primarily in new buses and the redevelopment of our Longstone depot. We also continue to invest in people and, as so many of our successes come back to our staff, we always ensure that we attract, retain and reward the best people in all disciplines of the business that we can.
"Importantly, our commercial successes are built upon the provision of value-for-money fares and we continually strive to keep fares low while still offering the highest standards of public transport as demanded by our customers."
"The last 18 months have been complex and challenging due to the growth of the business, introduction of East Lothian Buses and preparation for tram. As a consequence of this activity Ian Craig was formally appointed to CEO, which reflects his additional responsibilities over the past year. In addition, Tom Norris was appointed as General Manager of Edinburgh Trams and most recently Sarah Boyd as Head of Operations – Bus. These appointments followed formal organisational design studies, benchmarking and job sizing. This is one of a number of steps that have been made to prepare the company for its enlarged and more complex role."