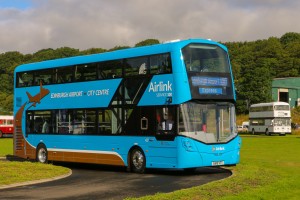 More passengers than ever before travelled on Lothian Buses services in 2014, helping to increase the company's revenue by £3m and generating a dividend to its municipal owners of £5.5m – according to the firm's annual accounts, which have just been published.
Lothian Buses generated revenue of £135.3m (2013 £132.3m) resulting in profit after tax of £8.24 million (2013 £8.58m) and a dividend to its local authority shareholders of £5.5 million (2013 £3.3m).
An extra three million passenger journeys were taken, lifting the total for the year to 118 million, while the firm maintained industry-leading customer satisfaction ratings.
The latter, undertaken by Passenger Focus (since renamed Transport Focus), found that the company was among the highest rated of all operators surveyed, achieving 94% overall customer satisfaction and a score of 83% in relation to value for money, the highest of any UK bus operator.
During the year, Lothian Buses also successfully expanded several of its initiatives to the Edinburgh Trams service, including the mobile app, which received 200,000 downloads in 2014, and its sister mobile ticketing app, which generated £2 million worth of sales over the 12 months.
Edinburgh Bus Tours, which offers five sight-seeing routes through the city, carried more than half a million passengers and achieved five star status from VisitScotland.
Jim McFarlane, Chairman and General Manager of Lothian Buses, said: "2014 was a challenging yet successful year and we're pleased to report very high levels of performance. For our people this should be a justifiable source of pride. As a company we are going through a period of change and we have committed to growth and further success. Our priority is to keep our focus firmly on the needs of our passengers so that we can continue providing excellent public transport for everyone who wants to get around Edinburgh and the Lothians."