Drivers' uniforms are a mere cost to most companies, yet Edinburgh's biggest operator begs to differ – as Ken Mann discovered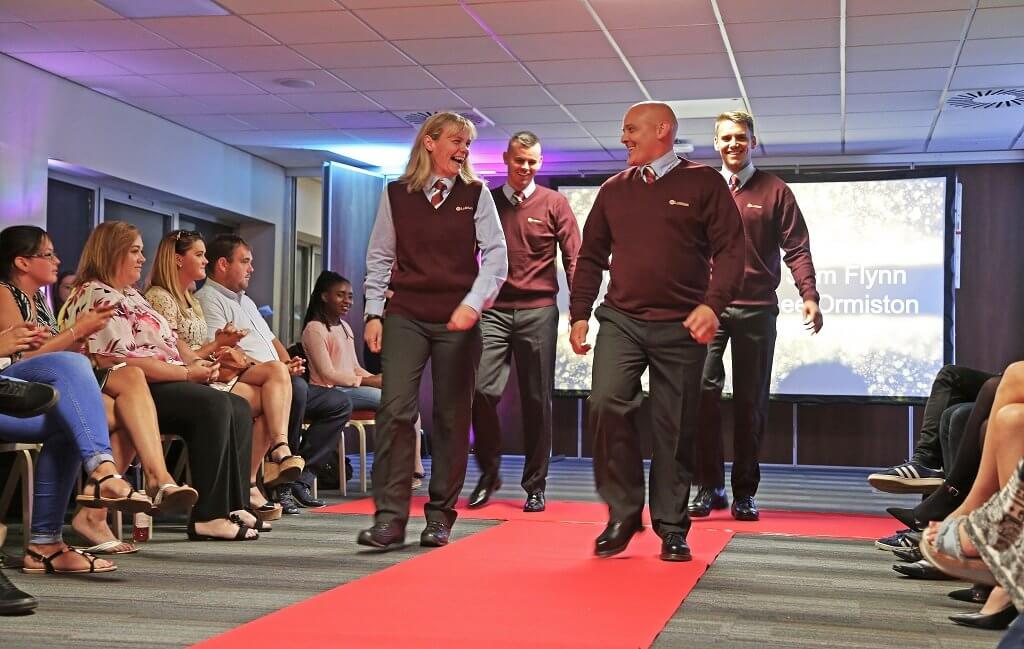 Lothian insists brand identity, employee loyalty and customer engagement can all be enhanced – with a change of clothes.
It is no attempt at taking lateral thinking too far. Edinburgh's principal bus transport provider, the UK's biggest stand alone arms'-length municipal company with more than 800 buses and 70 services, backs the bold contention on uniform with a solid business case.
Brand recognition, a sense of professionalism, a pragmatic approach to functionality and an understanding of reputation management contribute to the vital and ever-evolving activity of futureproofing prospects in markets where customers have a choice. Every management guru will surely agree.
Driving the agenda – setting its own higher standards against market expectations – helps to achieve that aim, according to Sarah Boyd, Operations Director. Within that mix, uniform becomes an investment rather than a cost.
As an indication of the seriousness with which Lothian has taken its approach to creating a new look, it has increased budget allocation for the purpose by around 30%. No financial figures have been revealed but given the pre-existing need for a uniform for its 1,900 drivers, an increase of that magnitude is significant. In-service roll-out of the fresh driver wardrobe occurs in August.
Customer experience
I was in conversation with Sarah immediately after an internal catwalk preview of the new collection, some garments in the subtle hue of Madder, the colour descriptor for that predominant Edinburgh bus burgundy – a nod to heritage. More on the selection of the model participants in a moment.
"Customer experience is everything to us," she told CBW. "We are a retail organisation in terms of how we view ourselves now and so we believe expectation from customers has increased. It is key that we put our drivers in uniform that they can wear five days a week and be proud of, signifying the professionalism we know they have.
"It's about taking care of our drivers properly, whether it is driving or walking to and waiting at relief points. They have the uniform on, they feel good, they look good. That means they can concentrate on the customer, driving standards and all those things that reflect professionalism. We're making it easy for them, hopefully putting them one step ahead of where they've been before."
Quality and comfort have been key components of the litmus test for the new garments, which range from an all-weather, fully waterproof and windproof anorak with removable inner fleece, to trousers with a more modern cut, and blazers with 'action backs', the latter incorporating discreet pleats which allow greater freedom of movement in the arms. Intended to offer lady drivers more options, skirts have been introduced.
Garment engineering
Each item has been designed around Lothian's stipulation of a more precise sizing programme to create improved look and feel. The manufacturer, Murray Uniforms in Coventry, calls it 'garment engineering'.
Typically, a 40,000-rub cycle on a machine that simulates wear is used as a benchmark for uniforms. New clothing for Lothian that is subject to high stresses, such as trousers, has been successfully tested to double that number of cycles.
"Our approach to designing for Lothian has been a process of collaboration between both businesses, and drivers, to engineer a uniform that stood for customer respect whilst being fit for purpose," said Ken Denny, Murray Uniform's client relationship manager.
"We know that what a person wears to work impacts how they feel and, as a result, how productive they are. The design, development and manufacture, over 18 months, resulted in an improved quality, better fitting uniform that not only represented Lothian, but also the region in which they operate – including a handy ticket pocket to make the day-to-day operations that little bit easier."
Returning to the surprising availability of skirts for the ladies, Sarah told me: "The feedback that we have had so far, in terms of the ladies involved in this (the catwalk show), is that they might like to wear a skirt now. We designed it into the range because we wanted it to be an option. We won't have a huge uptake from the start but over time I think that might change."
Driver ambassadors
Sarah points to a very low attrition rate among driving staff compared to industry norms, perhaps a corollary of acknowledgement of their role as company ambassadors. The longest serving employee has 57 years of service.
"We are very much an employer that people choose to come to and we see that with generations of families employed," she said.
Gaynor Marshall, Communications Director, added: "Brand can be just a logo – but not at Lothian. Brand defines who we are, and people define who we are. We invest in our people because, ultimately, they are the ones delivering our service.
"The bus world can have quite a transactional approach. Our focus is on people. If you equip them with the right tools and skills – from uniform to training – you enable and empower them to deliver an excellent customer experience consistently. Uniform is a massive part of feeling confident and being proud to wear the identity." As a footnote, those model participants were all genuine volunteers from among serving drivers. Interestingly, Lothian found it had more applicants than needed for the show, requiring an audition process.