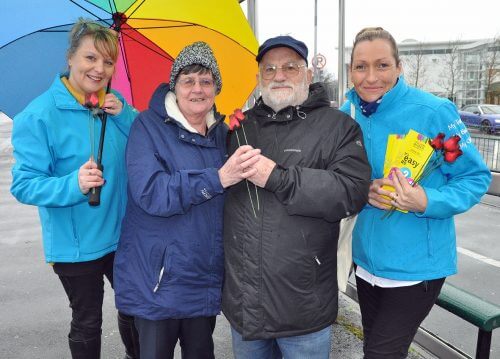 Romance was in the air when Yellow Buses wooed passengers with roses and Love Heart sweets.
The Bournemouth-based company marked Valentine's Day by handing out goodies to surprised customers.
Pete Williams, 75, and his wife, Yvonne, 74, were presented with roses and sweets while waiting for a bus at Castlepoint.
"We've been married for 52 years and Pete always gives me a Valentine's card but this is something different. It's a lovely thought," said Yvonne.
Linda Tunstall, 71, was handed a rose and Love Hearts while stepping off a bus with grand-daughter, Bailey, seven.
"I use Yellow Buses a lot and this is a real surprise. Bailey loves riding on the buses," said Linda.
As well as roses and Love Hearts, Fiona Harwood and Claire Pepper from Yellow Buses also distributed pamphlets promoting the company's revised network from April 8.
Fiona said: "Valentine's Day is always a good opportunity to say thank you to people for travelling with us and to, please, encourage their relatives, friends and work colleagues to also get the bus habit. The reaction has been brilliant."