Scottish bus operators and manufacturers have joined forces with numerous organisations to promote bus travel in the country
The first Scottish Bus Week got underway on Monday 23 May, and will run until Friday 29. The week-long programme of events is being hailed as an opportunity to celebrate all that bus can do for people in Scotland to help the country be healthier, greener, realise a fairer transport system and a stronger economy. It is also promoted as an opportunity to acknowledge and thank all those who work in bus and keep communities connected in challenging times.
At the start of the week, a film was released that features young dancers across Scotland who have worked with organisers #lovemybus to capture the opportunity, colour and diversity of bus travel across the country, the importance of the bus to young people and the freedom of free bus travel for all those under 22 years old in Scotland.
People were asked to share a picture on their bus journeys in Scotland and share it on the #lovemybus social media channels. Events and activities have been planned all over Scotland all week to celebrate and show gratitude for buses, those who manufacture them and those who keep services running. The #lovemybus team planned to visit destinations across the country all week with goodies and information on all the benefits of bus.
Nurseries and schools also got involved, with Fife College hosting a pop up event on the Thursday afternoon. In Birnam, bus passengers have been able to enjoy early morning cakes for commuters all through the week.
Bus Users Scotland was at Edinburgh College on Monday 23 May, and in Ayr an open-top bus was planned to take people to the beach on Friday 29 May. Lothian Buses planned a roadshow at Edinburgh University on the Thursday and in Perth Stagecoach offered the opportunity to see the new electric zero-emission buses up close in the city centre.
Jess Pepper, #lovemybus Programme Lead, said: "Buses keep our communities connected, even in the most challenging times. Scotland makes buses and most of our public transport services are provided by buses. Scottish Bus Week is an opportunity to celebrate bus and all that it can do for us, plus thank all those who work in bus and coach – making low and zero-emission buses right here in Scotland and delivering services right across the country.
"Choosing to travel by bus can help Scotland become greener, fairer, healthier and our economy stronger. Bus is a solution for many challenges we face, sitting ready to go! We hope lots of people will #ChooseBus this week."
Paul White of CPT Scotland commented: "CPT Scotland is delighted to be delivering, in partnership with #lovemybus and other supporters, the first ever Scottish Bus Week. This week will provide a perfect opportunity for the whole sustainable transport sector to highlight the import role bus plays in many communities across Scotland by connecting people to work, education, family and friends. It will also allow us to champion the positive aspects of bus from helping the economy and reducing congestion on our streets to helping tackle climate change and reducing inequalities. We hope this week will inform, challenge preconceptions and inspire people to choose bus in the future."
SPT Head of Bus Strategy and Delivery Gordon Dickson commented: "SPT is delighted to support Scottish Bus Week. Buses play an essential role in our public transport network connecting many across society to work, education and leisure activities. A dedicated week to recognise and celebrate everything bus is very welcome. Working with key partners and operators, we want to use this week to demonstrate to everyone all the benefits that choosing the bus brings from individual health benefits to the wider societal impact helping to tackle the climate emergency."
Hanna Hutchison Leask of Bus Users UK added: "Bus Users UK is delighted to be involved with Scottish Bus Week 2022. It's our mission to bring people together through accessible, sustainable transport and Scottish Bus Week is a great opportunity to celebrate the bus and get more people on board."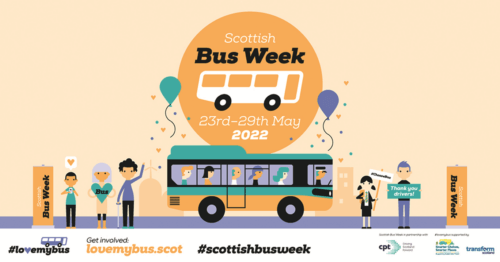 Operator response
Duncan Cameron, Managing Director of First Bus in Scotland, commented: "First Bus is delighted to support Scottish Bus Week and help showcase all of the good work and positive stories that the bus industry has to share. Bus is a key enabler in connecting communities and has an integral role to play in reducing congestion, cutting emissions and giving everyone an easily accessible means of travelling a more sustainable manner that's kinder to the planet."
Duncan's opposite number at Stagecoach West Scotland, Managing Director Fiona Doherty, added: "Stagecoach is pleased to be part of Scottish Bus Week. This shines a light on bus and we hope that it will encourage people to give bus a try. If everyone in the UK took one more journey by bus rather than car it could deliver a reduction of 2 million tonnes of carbon emissions a year. The bus industry also offers a huge variety of careers from apprenticeships in engineering, bus drivers through to management roles."
Lothian's Managing Director Nigel Serafini commented: "Scottish Bus Week is a great opportunity for us to celebrate the amazing contribution our teams have played in keeping cities and local communities connected during difficult and challenging times. We are delighted to be part of this initiative, bringing bus operators and stakeholders together to acknowledge the vital role bus plays in our economic and green recovery."
West Coast Motors is another operator which signed up to take part. Communications Director Sharon Morrison said: "The Scottish Bus Week presents the perfect opportunity to recognise and celebrate our people, many of whom have gone above and beyond to keep our communities moving over the past two years. It is also a fantastic way to showcase the sustainability of bus and how accessible it can be for many people living across Scotland."
Marc Winsland, Commercial Manager at McGill's-owned Xplore Dundee said: "We are thrilled to celebrate Scottish Bus Week as we come out of Covid-19 and rebuild our confidence. Travelling by public transport is good for the planet – and for your pocket. So hop aboard and take the bus with us!"
John Bynorth, Policy and Communications Officer at Environmental Protection Scotland, coordinators of Clean Air Day in Scotland on 16th June, concluded: "Scotland's bus sector is at the heart of efforts to improve air quality, reduce congestion and provide a sustainable transport future.
"The new fleets of zero tailpipe and low emission buses have all the luxuries you would associate with motoring, but without the hassle of people having to get behind the wheel. There is no better form of transport than bus travel. Using buses is one of the best ways to get around Scotland. Environmental Protection Scotland is delighted to support the first Scottish Bus Week and we hope the campaign encourages thousands of people to join Scotland's bus revolution."