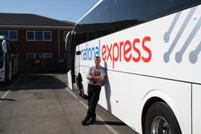 A Portsmouth-based National Express coach driver is fronting a UK-wide campaign to help armed forces leavers get jobs.
Former Naval Officer Simon Jay was chosen by National Express as part of an initiative to support other forces leavers.
Simon, on leaving the Navy in which he served for 22 years as Petty Officer Writer, went through two redundancies. However thanks to his driving experience gained in the forces, he made the transition to become a National Express driver, and is now based at Lucketts driving the 030 and A3 services to London and Gatwick Airport.
Simon was selected to front the campaign after National Express last month unveiled plans to support ex-service personnel, including offering guaranteed interviews for driving jobs for those with a PCV licence. The coach company has since been named as the first company to sign the Government's new pledge to support the Armed Forces, the Corporate Covenant.
Simon said: "Finding a normal job after spending so long in forces can be very daunting, but National Express gave me all the training and support I needed to establish myself as a driver.
"It's a great job, I like driving and the camaraderie between drivers is great. The best part of the job is giving my customers a smooth journey and ensuring they arrive at their destination happy."
National Express UK Coach MD Tom Stables added: "Changing careers is stressful for anyone but service leavers, many of whom may never have worked on civvy street, can find it particularly challenging. We are making a commitment to help ex-forces personnel like Simon to find new employment.
"By offering guaranteed interviews for our PCV driving vacancies, we hope to make it a little easier for people to make the employment choices that are right for them."