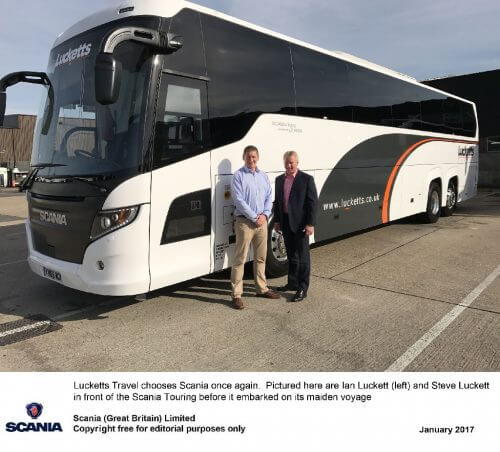 South Coast-based Lucketts Travel has ordered six new Scania Interlink HD coaches for its 2017 season.
The 12.8-metre overall length Interlink coaches, powered by 13-litre, 410hp engines, are expected to be available for traffic in the spring. Built to the Finesse specification, the vehicles will be equipped with half-leather seats, magazine nets, footrests and seat back tables. Bosch audio/video equipment, reversing camera and fridge also come as standard. Two of the coaches will be fitted with PLS wheelchair lifts and all will include a rear floor-mounted WC and rear continental exit.
All the new coaches will come as standard with Scania's two-year Repair and Maintenance programme, plus Scania's OnBoard fleet management.
The family-run operator company is now also operating a Scania K4106x2*4 Touring 13.7-metre overall length coach, fitted with 57 Kiel recliners and an extensive standard specification inside and out.
The established complimentary relationship enjoyed between Lucketts, Scania (Great Britain) Limited and, most importantly, the Scania dealership in Fareham, has greatly helped in building the strong and mutually beneficial ties between manufacturer, dealership and customer.