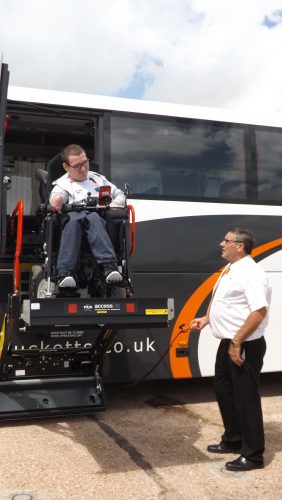 Fareham-based Lucketts Travel, which is the official away fans' travel provider for Portsmouth FC, is making away game travel more accessible to supporters.
From August, the operator made the first coach in each away game wheelchair accessible – a policy that will be continued across the entire season.
Lucketts Travel met with fans to test out the wheelchair lift on one of its coaches ahead of a busy season of away fixtures, and among those there on the day was Chairman of the club's Disabled Supporters Association, Basher Benfield.
As a lifelong fan of Portsmouth FC, Basher enthused: "Having this coach has been an absolute godsend to disabled people – it's a brilliant idea. Before, people had to go by car and often had to pick and choose which matches they could attend. It's all changed now and it's proving really popular."
Managing Director of Lucketts Travel, Tony Lawman, added: "Portsmouth fans are a passionate bunch and it's an absolute pleasure to help them get to away games in comfort and style. We're looking forward to an exciting season ahead, with even more accessible travel now available."
Lucketts Travel have had a long-standing relationship with Portsmouth FC, providing not only the official away game transport for supporters but also providing the player's transport on its new VIP coach, which arrived earlier this year (CBW1308).