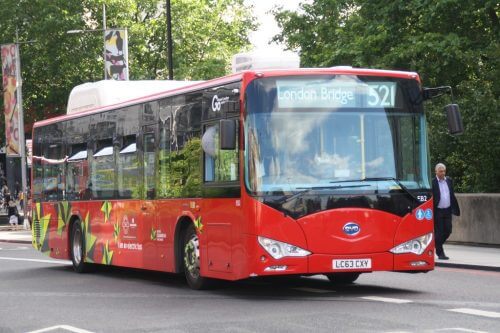 Sadiq Khan among a dozen mayors who will only add zero emission buses to their cities' fleets from 2025
Mayors of major world cities including London, Paris, Los Angeles, Barcelona and Mexico City have signed a commitment to procure only zero-emission buses from 2025, Air Quality News reported.
The pledge is one of a series of commitments outlined in the C40 Fossil-Fuel-Free Streets Declaration, signed by the leaders of 12 cities at the Together4Climate conference in Paris.
Other cities to have signed up to the commitment include Copenhagen, Quito, Vancouver, Milan, Seattle, Auckland and Cape Town.
Key among the pledges is a commitment to ensure that a major area of their city is zero emission by 2030.
The Mayor of London, Sadiq Khan, has already outlined plans to create central London and town centre zero emission zones from 2025, and creating a zero emission zone in inner London by 2040 and a London-wide zone by 2050.
Other policies within the commitment include a pledge to increase rates of walking, cycling and the use of public and shared transport, reduce the number of polluting vehicles on city streets and collaborate with suppliers, fleet operators and businesses to accelerate the shift to zero-emission vehicles and reduce vehicle miles in cities.
London Mayor, Sadiq Khan, said: "This is just the first step – we are introducing further world-leading restrictions on polluting vehicles over the next few years, as well as cleaning up our bus fleet and keeping our pledge not to buy a single new double-decker diesel bus.
"We are also building brand new cycle lanes right across the city and focusing on reducing pollution around schools. I want to make London one of the greenest cities in the world – that's why I'm putting walking, cycling and zero emission public transport right at the heart of Londoners' day-to-day lives, alongside energy efficient buildings, clean energy and increased recycling."