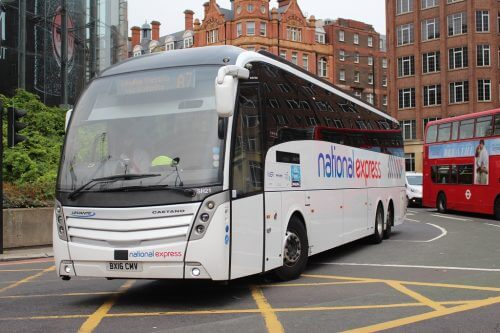 National Express Group has released a trading update for the three months ended September 30, 2017.
Group normalised profit before tax was up 12.3%, and up by 14.9% in constant currency, while revenue had increased by 6.4% (4.8% in constant currency).
Passenger growth was seen across the group, with figures up by 2.5%.
National Express said that it had seen pleasing results from the 'challenging' UK market. Its UK Bus division increased revenue per mile by 2.4% in the period, which it said was achieved by both growing like-for-like commercial patronage – up 0.6% in the period – and reducing service mileage by 2% to better match seasonal demand over the summer.
Low Fare Zones were highlighted as a success, with the first two driving a combined 4% patronage growth and a 2% increase in revenue. The group's UK Bus division's 1.4% decline in year-on-year revenues at the half year has now changed trajectory to a 0.2% increase in the period.
UK Coach has continued to grow both revenue (up 1.2%) and patronage (up 3.1% on core coach services). Both UK Bus and UK Coach saw particularly strong performances in September.
ALSA saw a particularly strong summer performance, with passenger numbers up 4.1% and underlying revenues increase by 2.1%. This revenue increase consisted of growth in both Spain and Morocco. North America saw revenue growth increase to 13.7% in the period.
Dean Finch, National Express Group Chief Executive, said: "We have delivered another strong performance and remain on track to deliver our targets for the year.
"I am pleased that we have both successfully addressed our challenges and exploited our strengths. We have reversed UK Bus' decline; continued to secure growth in UK Coach despite the impact of terrorism; enjoyed perhaps our best summer in Spain; and secured a very strong school start up in North America, allied with the emergence of additional exciting growth opportunities.
"We will retain a relentless focus on efficiency, delivering both competitive prices for our customers and a strong cash flow. Through this I am confident that we will continue to deliver growth and the returns for further investment in both our fastest growing markets and the new technology which is already delivering real benefits and promises much more to come.
"This momentum will be further underpinned by the significant fuel cost savings we will see in 2018. Fundamentally, this underpins our determination to deliver ever-improving shareholder returns, building on our recent performance."