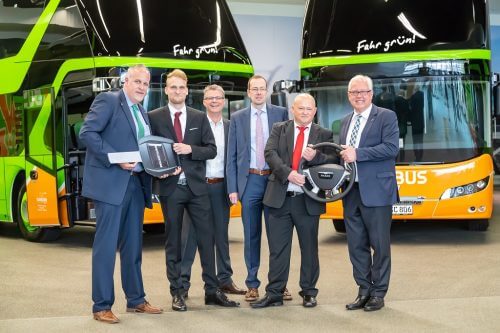 GERMANY Langenau-based Schröder Reisen has taken delivery of 14 Neoplan coaches including its 75th from MAN and 33rd Neoplan.
Eight are Tourliners while the remainder are Skyliners and all are being used on intercity travel for Flixbus.
Schröder Reisen also operates regular services in UIm and the surrounding areas, as well as providing transport for schools, day trips and longer overnight trips.
Andreas Schröder founded the company in 1990 in Langenau near Ulm.
"My parents worked in the bus sector, too," he said. "Buses have been a part of my life since childhood, and they have always fascinated me."
Andreas and his son Dominic accepted the new coaches from Holger Mandel, Chairman of the MAN Truck & Bus Deutschland Management Board.
"We're very pleased about this long-standing partnership that has developed over the years and the great working relationship we have," said Andreas Losert, the Regional Bus/Coach Sales Manager in the South West Sales Region at MAN Truck & Bus Deutschland GmbH, during the official handover of the vehicles at the MAN Bus Forum in Munich.
"Receiving a delivery like this is something very special."
Intercity coaches, operated by Schröder Reisen, cover around 250,000 to 300,000km per year and are generally used seven days a week. "This is why we need a partner who can keep up with us in terms of service, and we have found that partner in MAN," explained Andreas Schröder.
"It's also incredibly important to us that our vehicles are reliable and also perform highly in terms of fuel consumption and environmental sustainability," added Dominic Schröder, who is responsible for the company's intercity coach division.