Hamburg has taken another step towards its vision of a zero-emission transport system. In mid-December, MAN Truck & Bus handed over the first two MAN Lion's City E vehicles to transport operators Hamburger Hochbahn AG and Verkehrsbetriebe Hamburg-Holstein GmbH (VHH), which are now running the electric buses as part of their day-to-day operations and gaining further experience with e-mobility.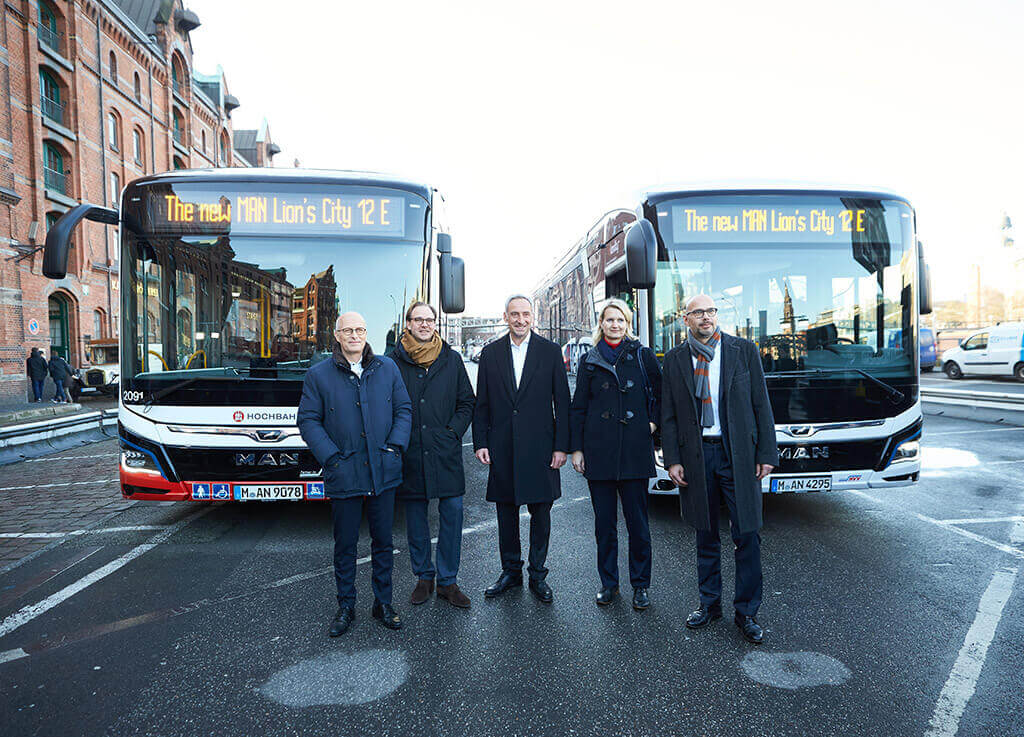 The handover ceremony was held in Hamburg's 'Speicherstadt' warehouse district. MAN's demo fleet of 15 electric buses will be on the road in customer operations in five European countries from 2020.
"When it comes to e-mobility, MAN has a clear roadmap for trucks, vans and of course also for buses. We are proud and delighted to hand over the first two customer vehicles for the planned practical testing to the city of Hamburg," commented Rudi Kuchta, Head of Business Unit Bus at MAN Truck & Bus, at the handover ceremony for the electric buses.
Dr Peter Tschentscher, First Mayor of Hamburg, said: "We need new technologies and creative solutions in order to master the big challenges facing modern metropolises in the 21st century. These new buses form part of a strategic transformation in terms of mobility, which we will be pursuing in Hamburg over the coming years. Our city's future transport system will be eco-friendly and convenient. We are significantly expanding our public transport system and will procure only emissions-free buses from 2020 onwards. Anyone travelling on the new electric buses in future will have a totally carbon-neutral trip, as the buses and trains in Hamburg's transport network run on 100% green electricity."
The 12m buses offer space for up to 88 passengers, and the all-electric driveline produces 160kW up to a maximum of 240kW, with modular batteries storing up to 480kWh of installed capacity. The Lion's City E has a range of 200km, with up to 270km in favourable conditions.