Ahead of the CV Show, we receive an update on MAN's plans for the UK market
MAN's lacklustre performance in the UK passenger transport market could be about to receive a boost from a sector the manufacturer has only just entered.
This week's Commercial Vehicle Show at Birmingham's National Exhibition Centre will see the company display a 16-seater-plus-driver wheelchair-accessible minibus version of the Volkswagen Crafter-based TGE 5.180.
Converted in the UK by Minibus Options, and grossing at 5.0 tonnes, the rear-wheel-drive newcomer is powered by a 2.0-litre four-cylinder 180hp diesel married to a six-speed manual transmission. It can be configured in various different ways; as a 10-seater with two wheelchair passengers for example, or as a 14-seater with one wheelchair passenger.
Just as interesting given the growing enthusiasm for cost-effective compact buses used on demand-responsive or hard-to-make-profitable rural services is another TGE-based exhibit; a low-height front-wheel-drive chassis cowl which is also at the show.
Fitted with the 140hp version of the 2.0-litre diesel, again married to a six-speed manual gearbox, the 3.140 grosses at 3.5 tonnes. There seems no reason why it could not be offered at higher gross weights.
MAN is leveraging the out-of-hours servicing facilities offered by its truck-based dealer network to help it boost TGE sales.
"It is often possible for TGE owners to drop their vehicle off at one of our dealer workshops last thing at night, then pick it up first thing the next morning with all the work done," said Daniel Holbein, newly-appointed as the manufacturer's UK Head of Van. "It's service while you sleep."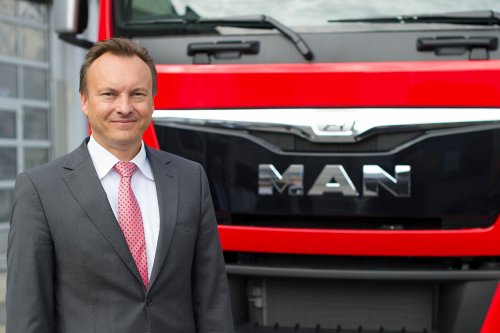 Turning to full-size buses, MAN's UK Managing Director, Thomas Hemmerich, aims to increase its activities in the British market over the next year to two years. Models such as the electric Lion's City E shown at last year's IAA show in Germany clearly have UK sales potential.
The problem he admits is the paucity of right-hand-drive product, and it is a problem he wants to see overcome.
"The UK is one of the top three bus markets in Europe and we are not going to let go of the opportunity it presents," he stated.
The company has enjoyed rather more success in the British coach market in recent years with the Neoplan Tourliner, and it is a success he wants to capitalise on.
Two additional models with different, entry-level and mid-level, specifications are set to be launched in 2020, he states.
"We'll be playing with Tourliner's interior," he said. "So far as sales are concerned we want to get a bigger piece of the cake."
You can read more Minibus News here: cbwmagazine.com/category/minibuses