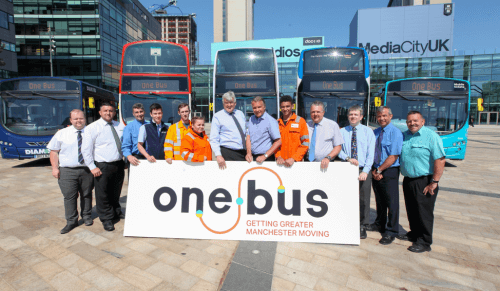 This year's Catch the Bus Week has seen the launch of a unified bus collective known as OneBus.
All 18 of Greater Manchester's commercial bus operators have joined forces to create the initiative – which aims to position the bus as the primary mode of transport for local commuters.
To celebrate the launch, 16-18 year-olds can enjoy free travel on any Greater Manchester bus this weekend (7-8 July) if they have a Get Me There 16-18 card.
Chief Executive and spokesperson Gary Nolan heads up the group, which gathered yesterday (3 July) to not only launch OneBus, but to highlight the work that bus service workers deliver for the city's economy.
Gary began his career as a bus driver, later working for Stagecoach as UK Bus Regional Director Midlands and Wales. He said the launch of OneBus unifies all of the operators under one common goal: to provide efficient, accessible and reliable bus services for everyone in the area.
"It's been wonderful to come together today in this iconic Media City location and celebrate the future of our industry, from our promising young apprentices and behind the scenes workers, to our experienced drivers on the frontline working with passengers every day," he said.
"Bus travel literally drives Greater Manchester's economy, from commuters travelling to work every day, to shoppers fuelling High Streets across the county, so it's important that as collective operators we come together to ensure we are continually assessing and improving our performance across the board.
"To reflect this commitment externally, passengers and the general public will notice OneBus logos displayed on the circa 1,500 buses operating daily throughout Greater Manchester from this week onwards. We're also pleased to have agreed as a group to offer passengers aged 16-18 years free travel this weekend to encourage bus travel and mark this special week."
Buses account for around 80% of public transport journeys made across the county – with over 200 million journeys being made every year. According to Transport Focus' latest survey, passenger satisfaction in the area is on the rise; 86% said they were satisfied with the service, up from 83% the previous year.
Transport User Director at Transport Focus, David Sidebottom, was also present at the launch. He said:
"The launch of OneBus represents a dedicated, industry-wide pledge to work in partnership to maximise the potential of bus travel.
"This can only be a positive move for passengers who will see the benefits of this partnership across the board on the factors that matter most to them from ticketing and pricing, to air quality, security and customer experience on-board."
Last year OneBus members recruited 17 new apprentices working in depots in roles including mechanics, electricians and body builders and on buses across the network. OneBus is dedicated to developing new and emerging talent to ensure the successful future of the industry.
Gary added: "We realise we have some big issues to tackle in Greater Manchester such as working with local authorities to play our role in minimising congestion, ensuring our network delivers and safeguarding best value for passengers.
"Through OneBus we can reassure all of our stakeholders of our unified approach and commitment to best practice across the board."