Marshalls Coaches LLP recently introduced two 80-seater Irizar i4 Integral coaches in service.
Glen Marshall, partner at the operator said that the order was increased due to London's Ultra-Low Emission Zone (ULEZ) making the previous vehicle order redundant.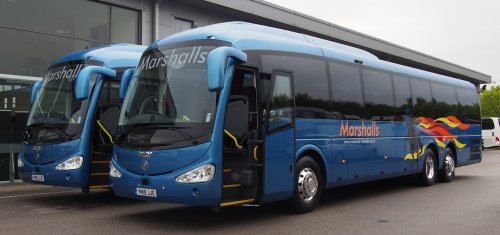 "These tri-axle coaches are effectively half the cost of a double-decker," he said.
The coaches are not only the first 80-seat DAF powered i4s in the country but also the operator's first Irizar Integrals.
The coaches feature the advanced DAF MX-11 300 engine with a 408hp output driving the ZF EcoLife automatic transmission, and passenger entertainment includes Bosch audio and Actia video systems.
"We have heard some very good reports about Irizar Integrals, both in terms of the vehicles themselves and the reputation for customer service and aftersales support from the manufacturer," Glen continued.
"The DAF driveline is a big plus, as we have had good success with other DAF-engined coaches," he added.
"We have a need for coaches with more than 70 seats, and the Irizar Integral i4 tri-axle provides us with a solution without the costs and issues associated with double-deckers," said Glen. "If these Irizar Integral coaches work out, we will consider buying a couple more."
You can read more News here: cbwmagazine.com/category/news