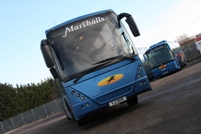 Marshalls Coaches is significantly improving its offering on its London commuter services, with the unveiling of a new app and the introduction of web ticketing and greater variety and flexibility with ticket types.
Commenting on the app, which has been developed by Traffilog, Dean Marshall told CBW: "It's great because it reduces the number of calls we receive and more importantly, it means passengers are in control on the ground.
"It only works on iPhones at the moment but we're hoping Traffilog will develop an app for Android devices in due course. We have to update the vehicle allocation data on the Traffilog website each morning. It only takes second – we just change the relevant vehicles to make their reporting data accessible to the app users."
The family-run operator has also introduced online booking, using a system created by Knutsford-based IRIS Ticketing.
Dean took up the story: "We still accept cash and cheques but it going online will help to reduce cash handling and stop dwell time. People are increasingly happy to pay for goods and services online so this is a logical step for us. We've stopped taking cheques for day tickets as it reduces the risk of them bouncing.
"Thanks to the ease of use for web ticketing, we've increased the range of ticket types, which has led to greater flexibility for our passengers. For example, the weekly tickets used to be Monday to Friday but now they can select from a calendar online from say Wednesday to Wednesday. In a similar vein, we've introduced a ticket for 10 single journeys, which can be used anytime up to the end of the calendar year. All this should benefit passengers and increase the attractiveness of our services."
CBW understands IRIS' system is also used by Arriva on its Green Line commuter coach services.
Asked for his opinion on it, Dean replied: "It seems very good because it's not complex and doesn't involve spending a vast amount in development costs. When a system is untried and untested from your customers' perspective, developing your own technology is a huge gamble due to the outlay involved. While I'm sure people will take to it, the proof is of course in the pudding."
In addition to private hire, the CoachMarque-standard firm runs two commuter routes. The 771 links Linslade with central London, via Leighton Buzzard, Hockliffe, Dunstable and Markyate while the 772 serves Houghton Regis, Leagrave, Dunstable and Markyate.
Download the app from https://tinyurl.com/cnwf8y4 or via the link at www.marshallscoaches.co.uk/pages/commutertravel.php. Visit IRIS' website at https://www.iristicketing.co.uk. Call Marshalls on 01525 376077