After a £200k investment in an extension and new equipment, Maynes' office space has doubled
Maynes Coaches of Buckie has completed an extension project which has doubled its office space.
The new office space features a reception desk and waiting area for customers, an open space for operations and compliance – a team which the operator is looking to expand, two private offices, a meeting room, a training room, a mechanics office, stores, stationary cupboard and an open plan kitchen.
Maynes has also invested in new computer equipment, a new phone system and a new server system, along with bespoke office furniture.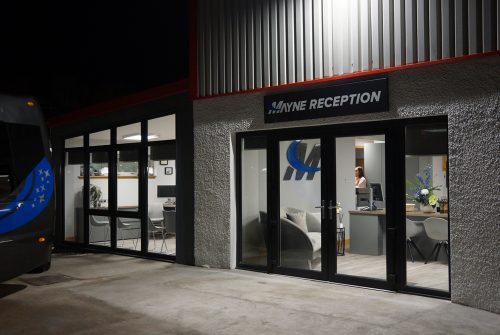 Maynes launched the new office on 11 January, with around 200 people attending the event. Attendees had the opportunity to view Mayne's latest vehicles: three new Mercedes-Benz Tourismos, a new Temsa and a Unvi.
Kevin Mayne of Maynes Coaches told CBW: "We have been planning the extension for a few years now and began the build last July.
There were huge ground works to be done and it did place a space issue on us for a while in the depot till the ground works were completed.
"The direction of the office extension was to develop us for the next generation and to make sure the foundations were set for them. The development cost around £200k.
"When we moved to our current location in 1993 we had so much space to use, but as the company has grown we have slowly run out of room."
Holly Mayne added: "I was lucky enough to be given a lot of freedom in regards to the planning and designing etc. Consulting back with Kevin, David and Gordon, I think it gave us the ability to create the best space possible, as we all work within different areas of the office.
Having different inputs really allowed for us to customise areas to suit us perfectly.
"Seeing the finished product now is something we are extremely proud of and allows us to show off the history of the company from the very start.
It's now a space we feel we can invite people to proudly."