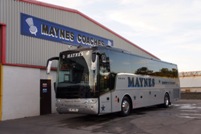 Maynes of Buckie has ordered three DAF-powered Van Hools for the 2014 season, after successfully operating the type this year.
Kevin Mayne told CBW: "Following on from our 2013 order for three DAF Van Hools and our excellent customer and driver feedback, we are again pleased to announce we have another three coaches currently in build at the factory in Belgium. We have repeated an order from Arriva Bus and Coach for three Van Hool TX15 coaches for the 2014 season.
"The new coaches will be built to our own executive specification, complete with 49 seats, full air-conditioning, a WC, hot and cold drinks and an on-board entertainment system. The new coaches will blend into our touring and private hire fleet undertaking a mixed workload throughout the UK and Europe.
"This total investment of around £770,000 allows Maynes to continue to keep its fleet age profile to be one of the youngest in the UK. More fleet upgrades are due to be finalised in the coming months which will see some extra smaller coaches arriving with us for 2014. This shows our continued commitment to our customers that 'Travelling the Mayne Way' is to travel in a first class vehicle, specifically selected for its comfort, reliability and safety."
The Scottish family-run firm was established by James Mayne in 1947. It now operates coaches from depots in Buckie, Elgin and Orkney.
For more about the fleet, visit www.maynes.co.uk