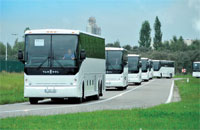 BELGIUM Van Hool has won two orders from ABC, its American distributor, for a total of 510 vehicles.
The manufacturer is building 210 coaches in Belgium, and is also setting up a foreign plant to make 300 "low-cost" vehicles. By the end of January, Van Hool will have decided on the final location of the manufacturing plant abroad, where it plans to build the vehicles over a period of three years.
Filip Van Hool, Van Hool's executive director, said: "Thanks to the efforts of our experienced and flexible employees and the fact that we custom-build vehicles to suit our customers' needs, we have acquired a unique position on the world market. Our products are recognised as being highly innovative. We sell vehicles which have more to offer than others and, as a result, are very labourintensive.
"In America the "low-cost" vehicle segment is growing very quickly. Our very healthy ambition is to play a significant role in this and thus retain and even expand our position on the global American market. Without this important foreign investment Van Hool's position on the American market was under threat."
Van Hool currently employs more than 4,000 people worldwide, most of whom work in plants in Koningshooikt and Bree.