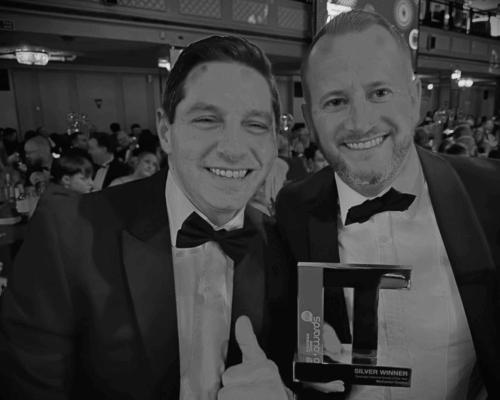 Specialist coach and bus insurance broker McCarron Coates has won a silver award in the Specialist National Broker of the Year category at the 2022 Insurance Times Awards. The Leeds-headquartered business was also a finalist in the Commercial Lines Broker of the Year and for the Best B2B Marketing Campaign of the Year categories.
The brokerage has built its success on providing informed and specialist advice to fleets of all kinds, including courier, coach & bus and haulage sectors, and has created a number of high impact marketing campaigns in these sectors. It has turned its hand to everything from helping secure the future of the coach sector, by better aligning it with customer expectations, to campaigning to reduce to diesel spillage on the roads.
Since the appointment of third director Luigi Maggio, the company has also focused on the specialist niches of roofing and scaffolding, developing bespoke insurance solutions for businesses operating in these markets and becoming insurer members of leading trade bodies. Channelling expertise in all of its areas of coverage, the brokerage reports that it has enjoyed significant growth in recent years, expanding its team and doubling its office accommodation.
Its in-house claims team has grown over the past 12 months and offers clients informed advice as well as working to identify trends within claims records that suggest how issues can be both addressed and eradicated by fleet managers seeking to control premiums.
The firm's latest success means that McCarron Coates has also maintained the award-winning track record it is proud of, and which goes back to 2019 when it won two other Insurance Times awards in the relatively early days of the brokerage. Speaking about its latest success, director Paul Coates said: "We are delighted to win the Insurance Times award, with these particular awards being the most prestigious in our sector. We shall build on this success in 2023, delivering even more insight to our clients and creating initiatives that help our clients stay compliant, whilst protecting their staff, the public and their balance sheet."