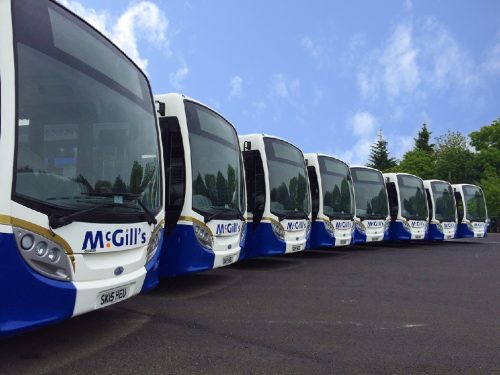 McGill's Buses has renewed its contract with the Michelin Solutions tyre management programme for five more years.
The Glasgow-based company operates from five depots in Barrhead, Coatbridge, Greenock, Inchinnan and Johnstone. Its 1,000 employees help customers complete more than half a million journeys each week across 110 different routes.
The contract between McGill's and Michelin is called Effitires and it will cover McGill's fleet of over 400 single and double-decker buses.
Every new Michelin tyre has additional layers of rubber built in as standard. Because of this, the company offers a regrooving service in the contract, a process that could help operators save money on fuel.
Ralph Roberts, Managing Director at McGill's, said: "We've enjoyed fantastic support from Michelin solutions since appointing them to manage our tyres on a pence per kilometre basis in 2010.
"When the time came to review our tyre strategy, it was clear that extending our current Effitires contract was the best decision for the business.
"With Michelin solutions, we know our fleet is in expert hands. Plus, as we can keep track of the tyre costs we expect to face throughout the contract, we can focus purely on delivering an outstanding service to our customers."
He added: "If a bus is off the road with a puncture, our customers' journeys can be affected, so choosing the correct tyre policy and supplier is key. Michelin tyres have proven to be ideal for our fleet, offering impressive durability, reliability and safety, which helps us to run a reputable, dependable service."