Megabus.com commenced operation of its upgraded airport services from Cardiff and Bristol from single-decker coaches to 'mobile airport lounges' on 17 June.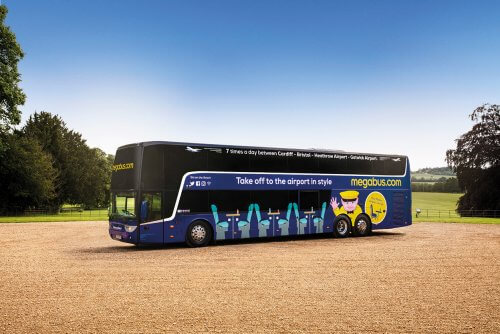 The M25 service which serves Heathrow and Gatwick airports up to seven times a day has been upgraded from Caetano Levante-bodied Scania K440 EB4 coaches to seven former megabusgold.com Van Hool TX27s.
The Van Hools moving to the service are 50301-4/6-8. The service will continue to be operated by partner, South Gloucestershire Bus & Coach.
The 'mobile airport lounges' feature tables, cup holders, extra legroom, free WiFi, on board charging points, air-conditioning, toilet and generous luggage allowance. Additionally, subject to availability, complimentary water and on-board products to purchase will be available.
Megabus.com has also announced that a new summer service is to operate between Derby, Nottingham and Skegness every Saturday between 20 July and 31 August. The route will be operated by Johnson Bros/Redfern Travel.
Read more news stories here: cbwmagazine.com/category/news