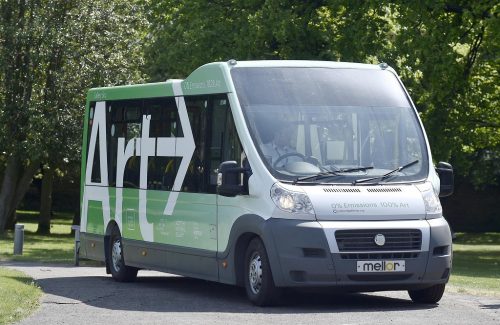 Mellor's Orion E electric bus has entered service in the UK for the first time this week in Edinburgh, operated by the National Galleries of Scotland (NGS).
The 16-seater Orion E is being used on a shuttle service between the organisation's three galleries in the Scottish capital.
The fully low-floor, all-electric bus was officially commissioned on May 28; the popular service operates on a circular route throughout the day, seven days a week.
John Randerson, Managing Director for Mellor, said: "It is really exciting for the whole team at Mellor to see our Orion E entering service for the first time and we are confident that the NGS, the drivers and passengers alike will all be blown away by its performance, comfortable ride and quiet, emissions free operation.
"A great deal of hard work went into the conception, development and launch of this bus which involved our technicians and engineers as well as the sales and marketing team.
"With its impressive green credentials, I am certain that this will be the first in a long line of Orion Es to be deployed in towns and cities around the UK and, of course, in Europe."
Brian Troddyn, NGS Sustainability Officer, said: "We're delighted and proud to have the first bus of this kind in Scotland, specially designed with a low-floor for wheelchair access.
"NGS is very committed to promoting green tourism and reducing our carbon emissions is an important part of achieving our goals.
"We look forward to welcoming visitors on board and being accessible to all."