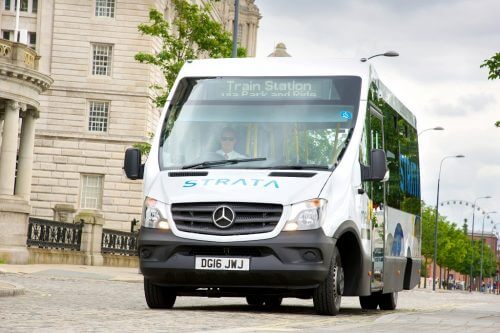 Mellor's Strata low floor bus is to make its European debut at Busworld Kortrijk from October 20 – 25.
The Mercedes-Benz Sprinter-based coachbuilt vehicle was engineered with the oversight and approval of Mercedes-Benz. Currently, the only low floor Sprinter products available in the UK utilise the Sprinter van body to create a passenger saloon with 2+1 seating and a single wheelchair space. Mellor has instead engineered an entirely new body, ensuring it can provide 2+2 seating and a much larger low floor section in which two wheelchairs can be accommodated.
John Randerson, Managing Director of Mellor, said: "When engineering the Strata, we wanted to find a solution to the limits of van based conversions using the Sprinter's robust and durable drivetrain, and avoid creating a carbon copy of existing low floor van derived Sprinter small buses.
"The Strata is a bus with its own, unique features. The van based products have 2+1 seating and a single wheelchair space, but skilled coachbuilding allows us to achieve 2+2 seating and two wheelchair spaces, with capacity for as many as 22 passengers."
The Strata LF will be appearing on stand number 919A in hall 9 at Busworld Europe, Kortrijk – 20 – 25 October 2017.