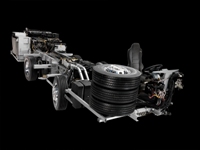 The new chassis has been designed to cater for the newly developed powertrain
Mercedes-Benz revealed its Euro 6 OC 500 chassis line-up at the FIAA show in Madrid last week. The range includes an OC 500 LE bus chassis and OC 500 RF chassis for touring coaches – both built at the Samano factory in Spain.
The chassis have been altered to cater for the newly developed Euro 6 powertrain comprising the new generation of engines forming part of the BlueEfficiency Power concept. The engine range already complies with Euro 6. Common features include the basic technical configuration with common rail injection and emission control using SCR technology with AdBlue injection plus an oxidation catalytic converter connected in series and a particulate filter.
The manufacturer claims fuel consumption is generally below the level of its predecessors. A further benefit is manifested in longer service intervals of up to 120,000km for engine oil changes in touring use.
The new Mercedes-Benz OM 936 six-cylinder in-line engine is compact and lightweight. It offers two power ratings of 220 kW (299bhp) and 260 kW (354bhp) from a displacement of 7.7 litres. This engine is deployed in both in the OC 500 LE and the OC 500 RF. The larger OM 470 six-cylinder in-line10.7 litre engine is optional for the OC 500 RF. It's also available in two power ratings – 290 kW (394bhp) and 315 kW (428bhp).
Modifications to the engine bay are in line with the exhaust system now being installed on the left side and the cooling system on the right. The radiator unit is separated from the engine by a bulkhead and is also encapsulated on top.
The OC 500 RF has standard fitment of manual six-speed gearboxes from Mercedes-Benz. The new GO 250-8 PowerShift fully auto eight-speed bus transmission is optional. It's claimed to offer faster and more comfortable changes. The shift mechanism is completely new and all functions are compactly incorporated in a steering column switch.
The OC 500 LE comes with the ZF EcoLife auto with torque converter.
A new retarder is employed in conjunction with all manual transmissions. It uses the engine cooling water as a braking and cooling medium. The previously necessary oil/water heat exchanger is no longer required. The new design results in a weight reduction of around 30 kg, accompanied by an increase in continuous braking power.
Mercedes-Benz RO 440 drive axles are low weight, low friction, quiet running, further improved suspension and enhanced ride comfort. The load-carrying capacity has risen to over 12tonnes.
The new rear axle is one of the weight-saving features employed to largely offset Euro 6 compliance.