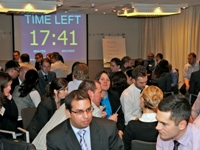 Over 70 delegates attended last week's Young Bus Managers Network (YBMN) Conference in Leeds which was held October 23-24 – themed Innovation in Yorkshire.
Keynote speaker was Les Warneford, Stagecoach UK Bus MD. Les gave advice for all those attending the conference and some amusing anecdotes about his experience in working in various positions around the country, from his time as a conductor in Bradford right the way through to his current position at Stagecoach, from which he retires next May.
Dr Bob Tebb of BRT UK was another high profile speaker; Dr Tebb has taken a key role in the development of guided busways throughout the UK, and worked in getting the two Leeds systems up and running. Delegates had the opportunity to sample the York Road scheme with an early morning bus tour. With the Gosport BRT system having recently opened and Luton-Dunstable opening next year, Dr Tebb's key message was that the future is certainly bright for Bus Rapid Transit in the UK.
Nigel Eggleton of Transdev Blazefield illustrated the numerous marketing initiatives the company has undertaken in order to grow bus routes further, notably the 36 between Leeds and Ripon, the Harrogate to Knaresborough corridor, the 'Mainline' network between Colne and Padiham, and also the wider Burnley local bus network under the 'Starship' brand.
David Young, Head of Customer Experience at South Yorkshire Passenger Transport Executive, was the final speaker of the day, and gave an absorbing presentation on how the Sheffield Bus Partnership has come about through liaising with key stakeholders, and working in partnership with operators to launch the new bus network for Sheffield which went live last weekend.